Wheels for the 1932 Ford projects
Last updated on June 10, 2012
---
The wheels for the coupe and the roadster
---

The wheels for the coupe are Halibrand magnesium 15 by 8 and 15 by 4 1/2 Sprint that I've cleaned, sanded, and given a brushed finish. The rears are five-inch bolt pattern and the fronts are 4 3/4. While magnesium wheels aren't considered practical for a street car, Gibbs Brand keeps them looking good without oxidizing.


After reading parts of my site, some people have gotten the idea that I am a wheel dealer. Not so. For years I've been gathering the parts needed to build a traditional, steel 1932 Ford three-window coupe for the street and a wild, steel 1932 Ford roadster for nostalgia drag racing. I just really like classic racing wheels. More than any other parts, the wheels determine the theme for the car they're on. They also change the look of the car more than any other part. I like old racing wheels. A lot. A few years ago, a guy I know said, "Dave, you have a wheel fetish." He was right.

Back in the'60s and '70s, I had a variety of racing wheels for various cars. We took them for granted. You just went to the speed shop and bought them. Decades later, my involvement with traditional race cars and hot rods led to my learning more about them. It started back in 1998, when I was offered a set of four magnesium 15 by 6 Torq-Thrusts with a 4 3/4-inch bolt pattern for $400. All I needed was an old Corvette to hang them on. I bought two for $200 to see what they looked like, with the understanding that I could either return them or buy the other pair. When they arrived I saw that they were in excellent shape.

Then somebody back east contacted me. He had a pair of Halibrand 16 by 13 "big windows" with a single five-inch bolt pattern for sale. They came off an old Fuel Altered or Top Fuel dragster from Fort Worth, Texas. Was I interested? Sure. They are the most aggressive-looking drag racing wheels that were ever made. Who cares if they're so huge that they don't fit anything? We got talking, and it turned out that he had an old Corvette. So, he got my pair of magnesium Torq-Thrusts, liked them, bought the second pair from the guy that had offered them to me, and sent me the Halibrands as a straight trade.

Once in a while I sanded them a little more, and now they're finally finished. Considering what they had been through, they were in great shape, and hardly pitted at all. The pair cost me 200 bucks. And about a hundred hours of sanding.

I have sprayed them with Gibbs Brand, which is what I use to protect all of my magnesium and aluminum parts.

These are very impressive wheels. But they are still far from practical. 16 by 13-inch wheels are so big you have to build the car around them.

These magnesium 16 by 13 wheels were made specifically for the 13.00-16 wrinkle-wall slicks that were used on Top Fuel cars and Funny Cars in the late '60s. Aside from the new 16-inch Hoosier Pro Street tires and the new M&H street tires, there are virtually no new DOT-approved tires available that fit them. One of the very few street tires that would work with them is the now-obsolete BFGoodrich Sport Truck T/A radial, which was 345 millimeters (13.58 inches) wide, with a 55-series profile. They were recommended for use with wheels that are ten to twelve inches wide. I looked around for a pair of them and bought a new pair in March of 2003. After a couple of years I sold them, having concluded that six-ply truck tires that weigh fifty pounds apiece don't belong on a performance car.

For the next few years, my wheel searching was concentrated on finding a pair of 15 by 4 1/2 Halibrand magnesium front wheels to go with the 16 by 13s. These are hard to find. As far as drag racing wheels go, Halibrand (and American Racing, for that matter) probably made at least fifty pairs of wide rear wheels for every pair of narrow, bolt-on front wheels.

Later in March of 2001, as a result of my searching for narrow magnesium front wheels to use with the 16 by 13s, I bought a pair of magnesium American Racing Torq-Thrust 15 by 4 front wheels for 200 bucks. They became available after a friend in Georgia bought a 1963 Corvette coupe that had been turned into a drag car but never finished. It has since been restored, mildly hot rodded, and put on the street. The Corvette must have originally been built up in the mid-Sixties, because when my friend bought it, the car had a rectangular tube chassis and an early Ford I-beam front axle.

When they arrived, they looked to like they were in great shape. The lips had the inevitable minor pitting. The centers were painted black but looked fine, with no signs of pitting. And then I beadblasted all the paint off.

The insides of the spokes looked like someone had taken a BB gun and used them for target practice. If I had known they were pitted that badly I would have passed them up. But they were mine, and I wasn't about to just slop more paint on them and pretend they were fine. I spent more Saturdays than I'm anxious to admit using a die grinder over at Russ Meeks' shop, getting rid of their imperfections. Those wheels took a lot of time.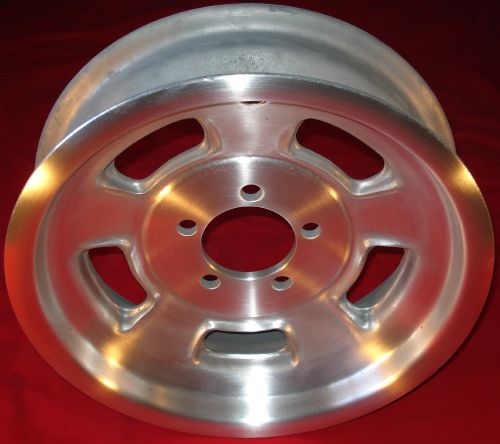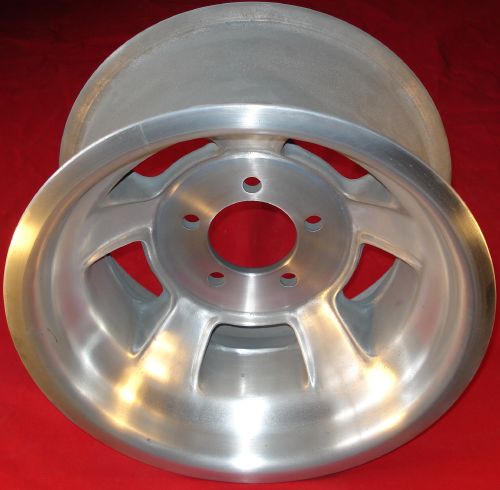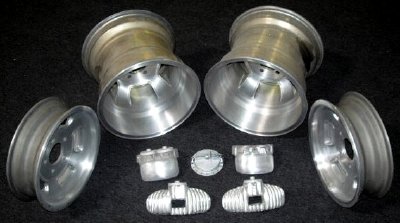 The wheel shown here is one of the pair of 15 by 8 1/2 Torq-Thrusts, in the rare, five-inch bolt pattern. The picture shows the wheel after I spent a few evenings getting the pair of them uniform with emery cloth and then brushing them with Scotch-Brite.

The process for refinishing all of the wheels involved bead blasting, sanding by hand with 80-grit emery cloth in alternating directions to get rid of all of the ripples, low spots, and imperfections, sanding them again with 180, bead blasting them again, and then finishing the lips in the lathe.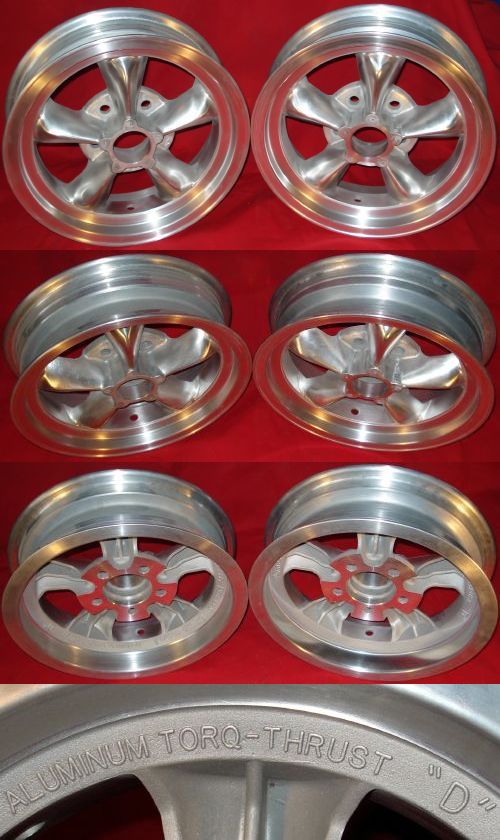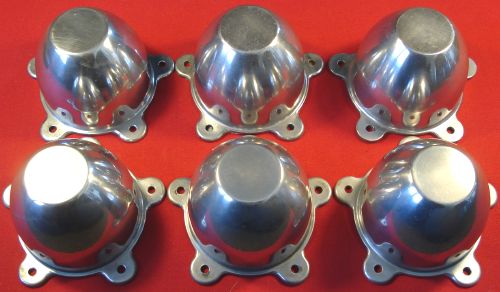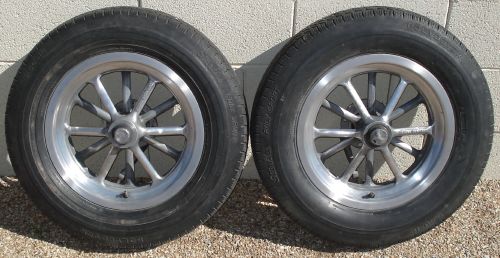 When Dan Carlson offered me this pair of the original E-T III 16 by 10s after deciding not to use them on his gasser, they were too neat to pass up. I bought them and set them aside.

These are the original two-piece version of the E-T III that have the inner and outer halves held together with socket-head cap screws and self-locking nuts.

The reason for building a wheel in two halves was to make it easier to change tires at the track between rounds, although it still takes a lot of muscle to unseat the bead. The mating surfaces on each of the halves has a machined, stepped recess. This provided adequate sealing without an O-ring or a gasket, since these wheels were designed to be used with slicks, which use inner liners or inner tubes.

E-T introduced the 16 by 10 E-T III around 1969. The styling was inspired by the big-window Halibrands, but taken further with larger windows.

As with all of the other wheels for the car, I have completely cleaned them in a bead blasting cabinet, and then sanded them by hand with 60-grit emery cloth in alternating patterns to make the surfaces uniform, and then gone over them with 150, 240, and 400-grit emery cloth.

These pictures, which were taken in March of 2006, show them as they are now. After sanding them inside and out, I brushed them with Scotch-Brite.
---


All text and images on Roadsters.com
are Copyright 1996-2012 Dave Mann