Classic racing wheels
Last updated on September 28, 2013
---
Introduction to classic racing wheels
---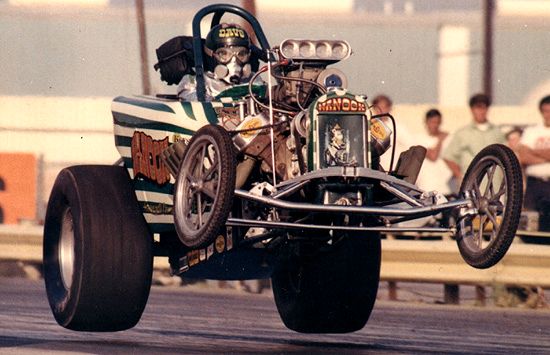 I don't claim to be an expert about anything, including old racing wheels.

We know who the experts are. They're the guys that are in the swap meets before the sun is up, buying up as much as they can of whatever they think other people will want. Some of them hoard hundreds of old wheels. Several of them have over a thousand of them. If you try to sell them something, it's quite possible that they'll tell you it isn't worth much, in the hope of being able to buy it cheap. They almost never pay more than a hundred bucks or so for a pair of wheels, but then they act like they're doing us a big favor by expecting us to buy them from them for several times what they paid.

These people certainly know more than I do.

One of these guys once told me that he thought that it wasn't fair when someone who was actually going to put some old wheels on his car beat him to them at a swap meet, because they kept him from earning a living.

Guess I'll just never be an expert.

Since nobody else seemed to be writing anything online about them, in the spring of 2001 I spent a weekend writing this page. Since then it's become one of the most popular pages on this entire site, and it grows regularly.

If you take a look at any book or magazine dealing with Top Fuel dragsters and Fuel Altereds from the early Sixties through the mid-Seventies, you'll see that virtually every one of these cars used cast magnesium rear wheels that were made by one of two companies: American Racing Equipment, and Halibrand Engineering.

Here's a bit of background on both of them, followed by a quick look at some of the other companies that played a significant role in the American aftermarket wheel industry.


---
American Racing Equipment history
---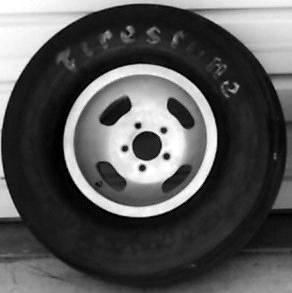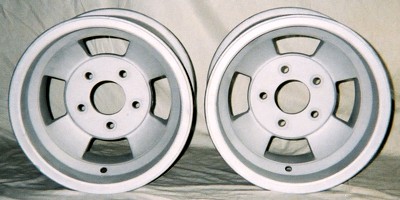 Through the Sixties and into the Seventies, virtually all Top Fuel dragsters used motorcycle-style laced wheels on the front, which were made by lacing machined aluminum hubs to aluminum motorcycle rims that were commonly made in Italy by Akront or Borrani.

When someone built a new dragster, American or Halibrand might have sold several pairs of rear wheels, but no fronts. For all practical purposes, it was only when someone built a Gasser that American or Halibrand would sell a pair of narrow, five-lug, bolt-on, magnesium front wheels. This has become significant to those of us who are now building cars with old magnesium wheels.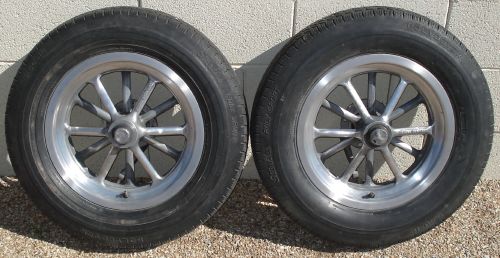 ---
American Racing Torq-Thrust wheels
---
One of the first American Racing wheels that were intended for the street was the aluminum Torq-Thrust, introduced in 1963.

The original Aluminum Torq-Thrust wheels were only produced in 14 by 6 (shown on the right), 14 by 7, 15 by 6, 15 by 7, and 15 by 8 1/2 (shown on the right). The 15 by 6 versions all had "Sport Wheel" cast into the insides, and all of the other sizes were marked "Torq-Thrust".

Although they have been seen on virtually every type of race car and street car imaginable, the first aluminum Torq-Thrusts were especially popular with Corvette owners.

The early Torq-Thrusts could be considered to be the definitive aluminum hot rod wheel.

Early Torq-Thrusts are easily the most widely-copied aftermarket wheel in history. Versions of it have been produced by many companies, including Ansen, Appliance Industries, Crestline, Durachrome, E-T, Fenton, International Manufacturing ("IMCO"), J.C. Penney ("El Tigre"), and Superior. Here are some clues for identifying some of them:

Appliance wheels were popular in the Seventies. Their five-spoked wheels can be identified by the word "Japan" stamped on the inside, and also by their large, recessed holes for the lug nut washers to seat in. As long as you don't mind the deep holes for the lug nut washers, Appliance five-spoked wheels are considered to be good-quality Torq-Thrust copies.

Crestline wheels were popular in the 1960s due their low price. The Crestline name is cast into all of their wheels as well as the inside of their aluminum center caps. Crestlines can also be identified by a rough edge around the outside of the mounting flange, which is neatly radiused on all of the original (aluminum and magnesium) Torq-Thrust wheels. In the 1960s and 70s, Crestline was the only company that made a narrow, aluminum 15 by 4 Torq-Thrust copy. Generally speaking, Crestline wheels are fine for most nostalgia cars.

Fenton five-spoked wheels were inexpensive and not outstanding in any way in their day. Aaron Fenton was a marketing man, whose most notable accomplishments were taking over Don Edmunds' cylinder head and intake manifold company and then shortly thereafter ending all of its production, and providing cheap parts on time to department stores. Fenton wheels have as much prestige as a Spark-O-Matic shifter, and about as much class as your daughter's boyfriend.

Superior five-spoked wheels have no name cast into them. They were made in Van Nuys, California. Superior wheels were popular in the Seventies and are considered to be quality wheels.
---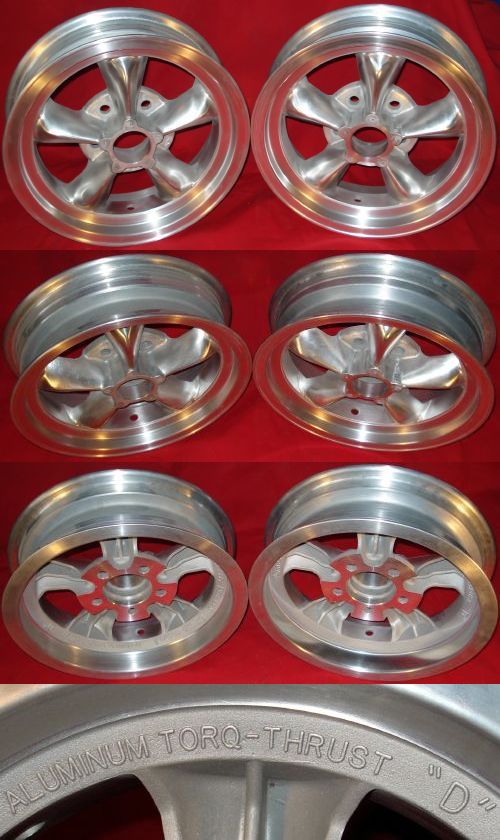 A newer version of the Torq-Thrust "D" was introduced in the 1980s, with spokes that are completely curved. Regardless of whether you like the shape of the curved spokes of the current Torq-Thrust "D", it remains a classic wheel that is somewhat faithful to its original version.

However, to make room for larger wheel bearings on cars built after 1983, the company decided to change the bolt pattern of the center caps, which had been an industry standard for about thirty years. The move to the larger bolt pattern meant moving the bosses that are cast into the wheel for the cap mounting screws outward. This in turn created clearance problems for the wheel's lug nut washers, which now fit into machined recesses that are created by the end mill that provides the seats for them. The result is a truly classic design that was changed into something that just doesn't look right. But they're available in 15 by 4 1/2, 15 by 6, 15 by 7, 15 by 8 1/2, and 15 by 10-inch sizes, in 4 1/2 and 4 3/4-inch bolt patterns (with a few of those sizes also available in a five-inch bolt pattern), from most any speed shop or tire store.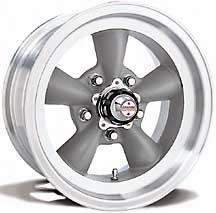 ---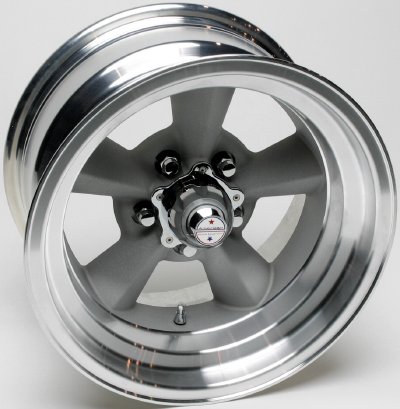 ---
Other American Racing Equipment wheels
---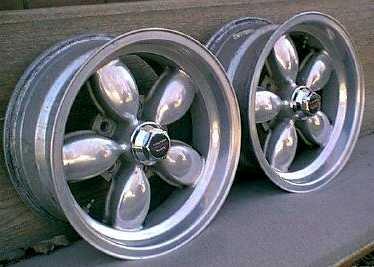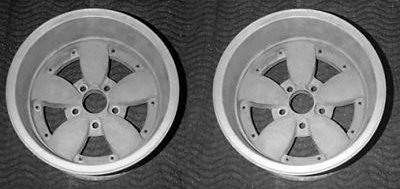 ---
Ansen Automotive wheels
---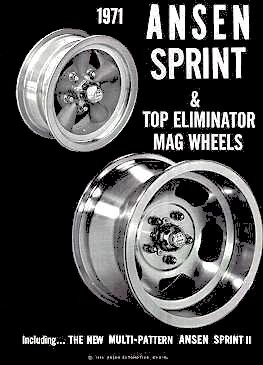 ---
Cragar wheels
---
The design of the Cragar S/S began in 1962, with marketing starting in 1964. Its styling was influenced to some extent by American Racing Equipment's highly-successful five-spoked Torq-Thrust wheel.

The S/S was one of the first production wheels to use a cast aluminum center with a rolled steel rim (both of which were chrome-plated), the way some 1957 Cadillac wheels were made. The S/S was also the first die-cast aluminum wheel. The wheel was designed with ribs and extra material added near the hub. The result was a wheel that offered a load-carrying capacity that was unmatched in the aftermarket wheel industry. Its classic styling made it a huge success with drag racers, hot rodders and custom car builders.

Cragar S/S wheels were made in 15 by 4 1/2, 6, 7, 8 1/2, and 10-inch sizes, and I've also seen early versions of them in 16 by 10.

In addition to the standard 4 1/2, 4 3/4, and 5-inch bolt patterns, S/S wheels were originally also available in the then-popular early Ford 5 1/2-inch bolt pattern.

The original Cragar S/S is still being produced, along with a newer version, designed by the late Larry Shinoda, which is offered in larger diameters.

Several Cragar S/S promotional items were released, that included belt buckles, T-shirts, jackets, and even women's earrings that looked like little Cragar S/S wheels. Cragar earrings were not sold, but were given to racers' wives and to some Cragar employees.

On display in my shop you'll see a big Cragar banner, a new Cragar T-shirt from the '70s that I got from former Cragar owner Joe Hrudka, seven of the big cast aluminum Cragar mugs, and a chrome Cragar S/S belt buckle. Now all I need is a Cragar S/S tie clasp and a pair of Cragar S/S cufflinks.

The Cragar legacy began with George Wight. Back in 1923, George opened a wrecking yard in Bell, California, and named it Bell Auto Parts. Being a race fan, George noticed that some of the wrecked Model T Fords that became part of his inventory had been modified for racing. Recognizing their significance, he set aside part of the shop for speed equipment, which included cams, heads, and intakes. The wrecking yard quickly evolved into the world's first speed shop.

In 1928, racing engine builder Harry Miller put together a group of people that included an investor named George Schofield, aviation experts from Beech, Lockheed, and Moreland, and engine designer Leo Goossen. The result was the Miller-Schofield Company, which produced carburetors, overhead-valve heads, and lightweight pistons for the new Model A Ford. The company prospered until becoming a victim of the Great Depression in 1930.

In 1931, a successful race driver, Harlan Fengler, found an investor, whose family ran Crane Plumbing, to put up the capital to save the business. The name for the new company was created by shortening the investor's name, Crane Gartz, to Cragar.

Manufacturing its overhead-valve heads for the Model A and Model B Fords, Cragar earned an excellent reputation. But near the end of 1932, the Depression again took its toll, and Cragar Corporation closed.

At that time, between selling used parts and making its own speed equipment, Bell Auto Parts was doing well. In early 1933, George Wight was able to buy all of the Cragar inventory and tooling.

This move put George in need of some help in running Bell Auto Parts and Cragar.

George was a character. His parents had worked for the railroad, and he claimed to have been born somewhere in Arizona in a caboose.

One night, he happened to meet a talented young mechanic named Elbert "Roscoe" Turner, who had just arrived in Bell after having hidden in a boxcar all the way from Texas. The two hit it off, and Roscoe became Bell Auto's first employee.

That brings us to Roy Richter, who was born in 1914. As a teenager in the 1930s, Roy was fascinated with race cars, and was one of the many racers who was often found hanging around Bell Auto Parts. When he finished high school in 1933, he started working at Bell as a pattern maker.

Roy became a master fabricator who led an extraordinarily rewarding life that first included building championship-winning, cast-aluminum tether cars, and beautifully hand-formed aluminum midget race car bodies. When George Wight died in 1943, Roy took over the business.

As a racer who enjoyed life, Roy recoginized the importance of safety equipment. Back in the 1930s, he had been among the very first midget racers to wear a real crash helmet. In a garage behind Bell Auto Parts, Roy and his employees began building Bell helmets in 1954. First worn at Indy in 1955, they were so well-received that the Bell Helmet Company was moved into a building next door with four employees in 1956.

Roy's many other accomplishments included overseeing the production of the now-classic and copied three-spoked and four-spoked Bell steering wheels, as well as Cragar intake manifolds and blower kits for dragsters.

Although Roy Richter has since passed away, his legacy lives on. Bell Helmets and Cragar both remain siginificant members of the automotive industry.

In 1990, the story of Roy Richter's incredible career was the subject of one of the most amazing automotive books ever written, called Roy Richter — Striving For Excellence, by Art Bagnall. Long out-of-print, used copies of this superb hardcover book can be found for $40 to $75. If you only ever buy one book about the history of hot rodding, this would be the one to get. You won't be disappointed with it.

Bell Auto Parts
http://www.bell-autoparts.com/

Bell Helmets
http://www.bellracing.com/

Cragar
http://www.cragarwheel.com/


---
E-T wheels
---
E-T wheels were created in the mid-1960s by Dick Beith, who started the company while he was working as a high school metal shop teacher.

Shown here is one of the original E-T III 16 by 10 two-piece wheels. These were the only wheels that E-T made strictly for drag racing.

The reason for building these wheels in two halves was to make it easier to change tires at the track between rounds, although it still takes a lot of muscle to unseat the bead. The mating surfaces on each of the halves have a machined, stepped recess. This provided adequate sealing without an O-ring or a gasket, since these wheels were designed to be used with slicks, which use inner liners or inner tubes.

The original E-T III 16 by 10 was sand-cast aluminum. The entire face of the wheel was painted gold, perhaps to resemble the Dow 7 coating that was commonly supplied on the magnesium Halibrand Sprint that inspired it. Unlike Dow 7, the paint was prone to chipping.

It took a lot of work to get these rough sand-castings this even and smooth.

The most popular vintage E-T wheel was known as the E-T V ("five"), a Torq-Thrust copy.

The E-T V five-spoked wheels were considered good-quality wheels with decent castings and good machining.

E-T wheels often used distinctive center caps. Although they shared the same mounting pattern and chrome-plated, molded plastic construction as the original American Racing Equipment Torq-Thrust caps, E-T caps were made with a pronounced oval outside surface with the distinctive green and chrome E-T logo. These center caps, and a modern, two-piece version of the E-T five spoked wheel called the E-T Five, are available today from E-T.

Some of their early street wheels were produced with the E-T Unilug, an oval-track-shaped steel washer that could be inverted or replaced to change the bolt pattern of the wheel. One version has a centered hole that fits Chevy 4 3/4" wheels, and the other style's offset hole fits the Ford and Mopar 4 1/2" pattern in one position and the 5 on 5 pattern when it's flipped arouind.

Like many wheels being produced today, the current E-T Five is a two-piece wheel that uses a cast aluminum center and a rolled aluminum rim. This type of construction makes it possible for a manufacturer to produce a wheel with any offset by varying the placement of a universal center.

E-T is now known as Team 3 Wheels.

http://www.etwheels.com/


---
Halibrand magnesium wheels
---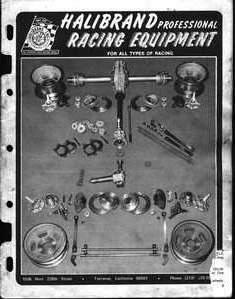 Halibrand Engineering was started by Ted Halibrand in 1946. Originally based in Culver City, California, and later in Torrance, California, Halibrand products included locking fuel caps, steering boxes, torsion bars and quick-change rear ends for Indy cars and sprint cars, and a wide variety of magnesium racing wheels for many types of race cars.

Halibrand wheels were used on Can Am cars, Fuel Altereds, Fuel dragsters, Indy cars, midget racers, and sprint cars, as well as sports racing cars that included the Shelby Cobra, Ford GT-40, Lola, and McLaren.

The earliest Halibrand wheels I have seen of are 18-inch magnesium wheels that are on a restored Indy car that was built in 1951.

Halibrand magnesium wheels were used on every car that won the Indy 500 from 1946 to 1963.

Many Halibrand wheels were made in the standard six-pin pattern for use with knockoff hubs. (The pins only locate the wheel on the hub or pressure plate, while the knockoff holds the wheel to the front hub or rear axle.) Six-pin wheels were commonly used in all types of racing except drag racing.

Bolt-on wheels could be ordered from Halibrand for virtually any application.

Halibrand "Kidney Bean" wheels were used on many types of race cars, from 12-inch Midget wheels to the original magnesium 18-inch Indy car wheels.

The Halibrand Sprint was made in a wide variety of sizes for many types of race cars. One version of the Sprint was the "big window", which was made for drag racing and sprint car applications in sizes ranging from 15 by 4 1/2, 15 by 6, and 15 by 8, up to huge 16 by 13-inch wheels for Fuel Altereds, Funny Cars, and Top Fuel cars.

Kidney Beans were also available in spindle-mount versions for Anglia and early Ford spindles, and were found on many Altereds, and later on some early Funny Cars.

To protect them from oxidizing and pitting, Halibrand magnesium wheels were often shipped after being sent to a plating shop and given a gold coating called Dow #7. (Keith Black Racing Engines is one of several companies that used Dow #7 on magnesium blower cases and other parts.) Due to changes in the plating industry, platers that still work with this coating are hard to find. It resembles a flat gold anodizing. It was not extremely durable, and had to be redone occasionally to keep the wheels looking new. The circumference of the wheels, in the area covered by the tire and tube, was also coated, either with Dow 7 or an aerosol can of Krylon "Harvest Gold" spray paint, depending on who you ask.

In 1979, Ted Halibrand sold the company he created, and retired. In 1991, the racing community lost Ted Halibrand to a heart attack.

Having changed ownership and being relocated several times, the Halibrand company was last based in Kansas.

Original, unmodified Halibrand magnesium wheels in good condition remain the most sought-after of all vintage racing wheels, and the most valuable.

When Ted Halibrand ran the original Halibrand Engineering company, they made all of their wheels out of magnesium. They never made any aluminum wheels. It's ironic that both the last and second-last incarnations of the Halibrand company made all of their wheels out of aluminum, and despite the demand for them among traditional hot rodders and nostalgia drag racers (not to mention those of us that restore old hot rods and race cars), they never announced any plans to produce any Halibrand magnesium wheels.

In addition to their quality, light weight, and historical significance, something else that makes Halibrand magnesium wheels outstanding is how they transform the looks of the car they're mounted on. While their function was a much greater design priority than their appearance, we have Ed Weimer to thank for creating the patterns for casting the original Halibrand wheels. It was his work that gave the wheels' spokes, cut-outs, lips, and ribs their timeless, agressive look.

According to veteran Halibrand employee Bob Falcon, "Ted's pattern maker was Ed Weimer, the same guy who made the original patterns for the Hilborn-Travers fuel injection products. Those patterns were made in his home garage workshop, just off of Overland Avenue in the Palms region of Los Angeles. Palms was just across Venice Boulevard from Culver City. When Halibrand moved the shop to Torrance, Weimer relocated to one of the single-bay shops that Ted built on the west side of the property. This was in late 1963, when we started building the Halibrand Shrike race cars for Indy."

"One of the neat things about Ted Halibrand was the pride that he had in the high level of quality of the components we manufactured. Nothing irritated him more than those times when we had a product failure. We really worked to make certain that it would never happen again."

Very few of the original wooden molds that were used to produce Halibrand magnesium racing wheels were preserved. Back when Halibrand Engineering had been sold and become a division of a company whose main interest was dune buggies, the employees often took old Halibrand wooden molds out to the California desert, where they burned them in late-night campfires.

Ted Halibrand was an engineer. He knew how to design wheels so they would be as strong as they needed to be without adding extra material to them that would have made the molds difficult to cast and the wheels heavier than they should have been. If he had ever had a problem with a poorly-designed mold, he would have corrected the problem instead of taking it to foundry after foundry and then still having problems with porosity in the castings. Ted Halibrand built wheels that worked well, and that people wanted to buy. He never had a fifty-foot trailer to take his products to trade shows, and he didn't wear an embroidered Halibrand Engineering tour jacket. And he stayed focused on his established product line without getting sidetracked by trying to develop a line of engine parts, let alone parts for flatheads. He never shipped reject parts to customers to get them off his back. He didn't copy other people's wheel designs. He never hired an attorney to send "Cease and Desist" letters to people who made wheels that resembled his. If he had ever run into serious financial problems he would never have just stopped answering his phone without even informing his dealers. And he sure as hell never tried to have a line of goofy-looking, cheap wheels made in China or Mexico so he could further exploit his name.

Ted Halibrand was a good man. His vision deserved much better.

Hopefully whoever eventually resurrects the company from its current state will show more respect for what Halibrand Engineering was intended to be and what it stood for, back in an era when the hot rod and race car community remained relatively unpolluted by ignorant drunks, or by spoiled, insecure, ego-driven, greed-motivated yuppie investors trying to be rock stars.

To learn about what happened to the Halibrand company, please read both pages of the article titled "Halibrand files Chapter 7 bankruptcy, CEO opens similar company"


---
Restoring classic racing wheels
---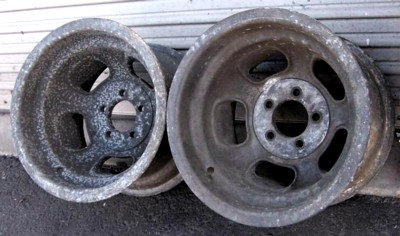 ---
Taking care of magnesium wheels
---
Magnesium is beautiful. If brightly polished aluminum resembles chrome plating, polished magnesium is more like nickel plating, with just a hint of gold to it. No other metal looks like it. Magnesium that has been brightly polished is unique and striking.

Magnesium is strange stuff. After you polish it to a beautiful mirror finish, as time passes it will gradually turn gray, and then dark gray, with a bit of green.

Magnesium is extremely difficult to weld. Generally speaking, the more someone knows about welding, the less likely they are to want to have anything to do with repairing magnesium castings.

Magnesium is dangerous. If it ever catches fire, throw a bucket of sand on it and run for your life. When magnesium burns, it virtually can't be stopped. Small quantities of magnesium are used to make photoflash bulbs. Larger quantities are used to make bombs.

Magnesium is exotic. In the world of vintage race car parts, there is no other metal that is so tough to deal with. But many of the most desirable drag racing parts were made out of magnesium, including blower housings, end plates, manifolds, and pulleys, fuel filters, fuel injectors, late Hemi timing covers, oil pans and valve covers, Ford and Olds differentials, quick-change rear end center sections and covers, and some really neat wheels.

Magnesium is a pain. But its use plays an important role in hot rodding, and we deal with it.

The biggest challenge in taking care of magnesium parts is preserving them. With exposure to humidity, magnesium oxidizes, and tiny craters that are commonly called pits are formed. When magnesium parts are left unprotected and exposed to moisture, these pits eventually can grow to over an eighth of an inch in diameter.

I've seen a pair of magnesium racing wheels that were left lying outside in a field for many years. They had craters as big as three-eighths of an inch across all over them.

The twelve-spoke wheel on the right is on an old Willys Altered that has sat outside for several decades.

This stuff is alive.

A sign that magnesium castings are getting ready to become pitted is the appearance of a fine white powder in places. While very minor pitting can be removed with emery cloth, the best thing to do is to make sure it doesn't happen in the first place.

Most magnesium wheels were produced by sand casting. You should expect to find some imperfections in the castings. As far as telling whether you're looking at pitting or casting flaws, that's a tough call without seeing them. It's a safe bet that they have a number of relatively minor casting flaws, and it's inevitable that they've got some pitting on parts of them unless they've been stored in an airtight drum filled with oil.

If you're shopping for vintage magnesium parts with the goal of building something that's show-quality, you have to start with something decent. Unless the parts you looking for are extremely obscure, there's enough of this stuff out there that you don't have to settle for parts that are badly pitted.

Magnesium parts must be stored in a dry area that is free of humidity. Bare magnesium wheels can be sprayed with WD40, which will offer some protection until it evaporates. Some people store their magnesium parts in thick plastic bags, and use a vacuum cleaner to draw as much of the air out of the bag as possible before tightly sealing them.

I've experimented with some ideas to keep my magnesium Americans and Halibrands shiny. WD40 did okay, but it leaves metal parts sticky and makes dust hard to remove. The one product that amazed me was Gibbs Brand, which is advertised as being a "mega penetrant". After spraying Gibbs Brand all over my satin-finished magnesium Halibrands (and aluminum Torq-Thrusts), it has proven to work amazingly well. You can learn more about it on this site's page about Gibbs Brand.


---
Wheel bolt patterns
---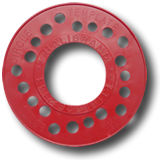 A variety of tools are available for measuring wheel bolt patterns. Made For You Products offers a handy molded plastic circle template with holes in it that line up with the standard 4 1/2, 4 3/4, 5, and 5 1/2-inch five-lug bolt patterns. It only weighs a few ounces and costs four bucks. I've used one of tools these for years and it works fine.

If you buy and sell wheels for a living, and if you can deal with using four different, heavy tools that you can barely carry at the same time, you can take four wheel adapters, each with studs for a different bolt pattern, and paint each adapter a different color. This system is well-suited to production work, when you're checking a group of wheels that are supposed to be the same bolt pattern, where the particular adapter you're using becomes a simple "go / no-go" gauge that's quick to use.

If you're ever stuck without a bolt pattern tool and you need to measure a wheel to see what it fits, you can just measure from the center of one of the wheel stud holes straight in to the center of the wheel. Double that measurement, and there's your bolt pattern.

Six-pin knock-off wheels go back to the late 1940s or early 1950s. They are used on many Indy cars, sprint cars, midget racers, sports racing cars, and Can Am cars.

Up until the mid-1950s, the most popular bolt pattern used in drag racing was the 5 1/2-inch pattern used on the early Ford rear ends that most racers used. In 1957, due to the instant popularity of the virtually-indestructible 1957 Olds rear end (especially the heavier station wagon version), this standard was replaced by the Olds five-inch bolt pattern. This series of Olds rear ends ran from 1957 through 1964.

Although modern Top Fuel dragsters and Top Fuel Funny Cars now use purpose-built rear ends made by companies like Chrisman Gears and Strange Engineering, the five-inch bolt pattern remains the standard today. It's also the most common bolt pattern used on five-lug NASCAR race cars.

The other bolt patterns you'll find early racing wheels drilled for are the 4 1/2-inch pattern used on most Ford and Mopar muscle cars, and the 4 3/4-inch bolt pattern that Chevy used for decades, until they cut their hair and went metric.


---
Hot rod wheel manufacturers
---
American Racing Equipment
http://www.americanracing.com/
Billet Specialties
http://www.billetspecialties.com/
Boyd Coddington Wheels
http://www.hotrodsbyboyd.com/
Budnik Wheels
http://www.budnik.com/
Center Line Wheels
http://www.centerlinewheels.com/
Colorado Custom
http://www.coloradocustom.com/
Coys Wheels
http://www.coyswheel.com/
Cragar Wheels
http://www.cragarwheel.com/
Dayton Wire Wheels
http://www.daytonwirewheel.com/
E-T Wheels / Team 3 Wheels
http://www.etwheels.com/
Early Wheel Company, Inc.
http://www.earlywheel.com/
Esajian Wheels
http://www.esajianwheels.com/
Gilbertson Machine Shop — Lon Gilbertson can widen or narrow your aluminum wheels
http://www.lonniesplace.com/
Independent Racing Wheel
http://www.independentracingwheel.com/
Pete Paulsen Motorsports
http://www.petepaulsen.com/
Radir Custom Wheels
http://www.radirwheels.com/
Rally America — Gary McLean
http://www.rallyamerica.com/
Eric Vaughn Machine — Eric Vaughn repairs and modifies vintage aluminum wheels
http://www.ericvaughnmachine.com/
Vintage Wheel Works
http://www.vintagewheelworks.com/
Weld Racing Wheels
http://www.weldracing.com/
Wheel Vintiques
http://www.wheelvintiques.com/
---
Racing wheel manufacturers
---
Aero Race Wheels
http://www.aeroracewheels.com/
American Racing Equipment
http://www.americanracing.com/
Bart Wheels
http://www.bart-wheel.com/
Bassett Racing Wheel
http://www.bassettwheel.com/
BBS Wheels
http://www.bbs.com/
Bogart Racing Wheels
http://www.bogartracingwheels.net/
Center Line Wheels
http://www.centerlinewheels.com/
Champion Wheels
http://www.championwheel.com/
Circle Racing Wheels
http://www.circleracing.com/
Compomotive Wheels
http://www.comp.co.uk/
Cragar Wheels
http://www.cragarwheel.com/
Diamond Racing Wheels
http://www.diamondracingwheels.com/
Douglas Racing
http://www.dwtracing.com/
Dymag Racing Wheels
http://www.dymag.com/
Hayden Enterprises — front wheels for dragsters
http://www.haydenent.com/
Ken Huff Racing Wheels — Land Speed Record racing wheels
10827 Larrylyn Drive
Whittier, CA 90603
(310) 943-6877
Independent Racing Wheel
http://www.independentracingwheel.com/
Jongbloed Wheels
http://www.jongbloedwheels.com/
Keizer Aluminum Wheels
http://www.keizerwheels.com/
Ken Lowe Race Cars — front wheels for dragsters
http://www.kenlowe.com.au/
MRT — Marsh Racing Technologies
http://www.mrt-wheels.com/
Minilite Wheels
http://www.minilitewheels.com/
Momo Wheels
http://www.momousa.com/
OZ Wheels
http://www.ozracing.com/
Glen Sander Engineering, Inc.
http://www.sanderengineering.com/
Superlite Wheels
http://www.superlite-wheels.com/
Taylor Made Wheels — Land Speed Record racing wheels
9220 South Atlantic Blvd., Building #29
South Gate, CA 90280
(323) 567-3998
Vintage Engineering
http://www.vintageeng.com/
Weld Racing Wheels
http://www.weldracing.com/
---
Wheel accessory manufacturers
---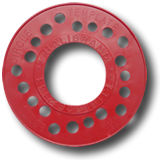 Custom Wheel Accessories, Inc. — lug nuts and wheel locks
http://www.customwheelaccessories.com/

D.J. Edman and Company — Wheel Lug Gauge for measuring bolt patterns
http://www.wheeltool.com/

Gorilla Automotive Products — wheel locks
http://www.gorilla-auto.com/

Made For You Products — wheel bolt pattern tools
http://www.made4uproducts.com/

McGard — wheel locks
http://www.mcgard.com/

Motorsport Technology — wheel adapters
http://www.motorsport-tech.com/

Prestige Wheel Accessories
http://www.prestigewheel.com/

WheelWorks, Inc. — manufacturer of the MountMate wheel sizing tool
http://wheelworksinc.com/







---


All text and images on Roadsters.com
are Copyright 1996-2013 Dave Mann