Gibbs Brand penetrant
Last updated on June 30, 2013
---
Introduction to Gibbs Brand
---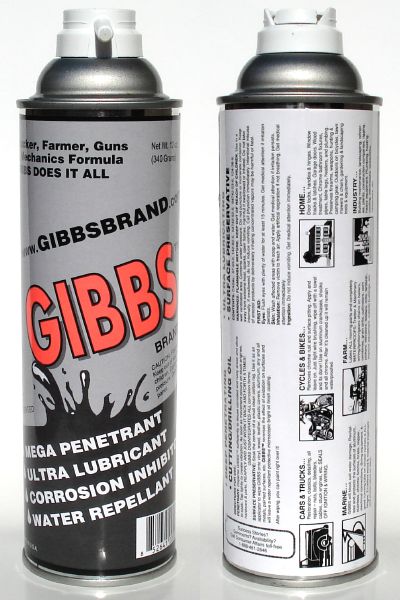 ---
No abrasives

No acids

No arsenic

No carcinogens

No corrosives

No graphite

No kerosene bases

No masking perfumes

No pigments

No silicones

No Teflon

No waxes

---
I used to use WD40, but won't again. In 2001, I carefully bead-blasted a cherry pair of American Racing magnesium wheels that had never been polished. I wanted them to remain looking untouched, just as they had been made. After spraying them with WD40, I found that they were pretty much impossible to keep clean, because when I wiped them off, the WD40 had left them so sticky that the wheels would pull dirt and lint out of what I was wiping them off with. What kind of lubricant leaves something sticky?

In the summer of 2003, Ed Norton, a friend of mine in Michigan who restores 1960s sprint cars, told me about something that he used to protect the bare metal surfaces on his restored race cars to keep them from oxidizing. Like thousands of people, Ed also uses Gibbs as an extremely effective penetrating oil, as a cleaner, and as a rust remover. He said that although it was hard to find, it worked exceptionally well, and he offered to send me a can of it to try out.

The first parts that I used Gibbs Brand on was one of my pairs of Halibrand magnesium wheels, which are shown here. These are 16 by 13s that were used on Top Fuel cars back in 1969.

Having spent more time than I'd like to think about using emery cloth and Scotch-Brite by hand to get their surfaces uniform and smooth, I wanted the magnesium to stay free of dust, fingerprints, and oxidization, without resorting to the limitations of paint or powdercoating.

Clear paint, or any paint, does not prevent rust from occuring underneath it. One of the worst things you can do with a magnesium wheel is to paint it. Moisture will creep in through the slightest scratch, and you won't know that the wheel has areas that are rotted away until you remove the paint (or X-ray the wheel). Gibbs Brand works its way into the pores of the metal and protects it.

It's been more than five years since I first put Gibbs Brand on these wheels, and I have put more Gibbs on them twice since then. In terms of protecting bare metal from oxidization and fingerprints without any drawbacks, Gibbs Brand has proven itself to be more effective than anything else that I know of. It is superb.
---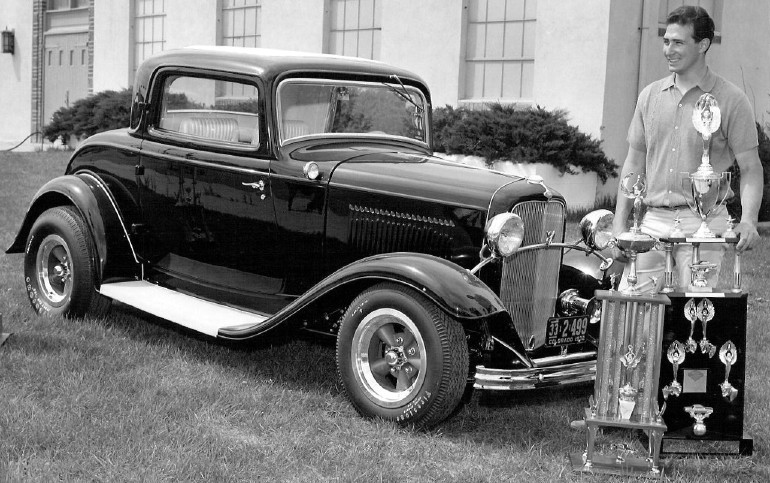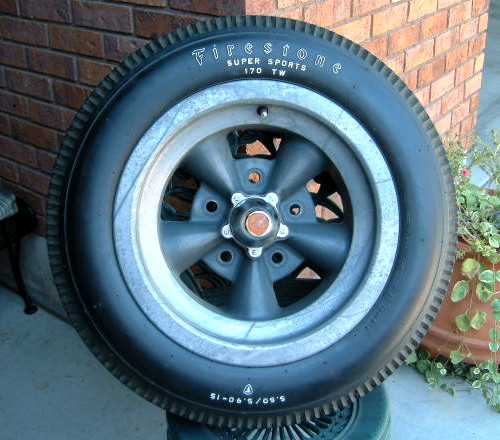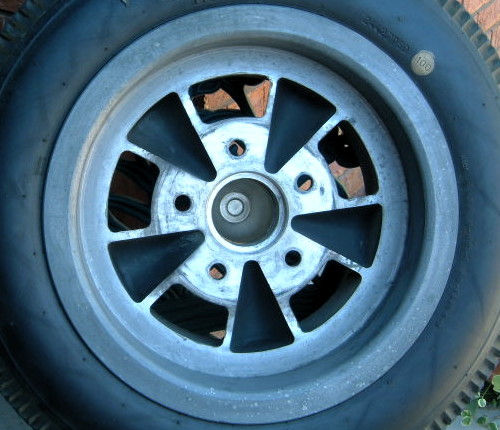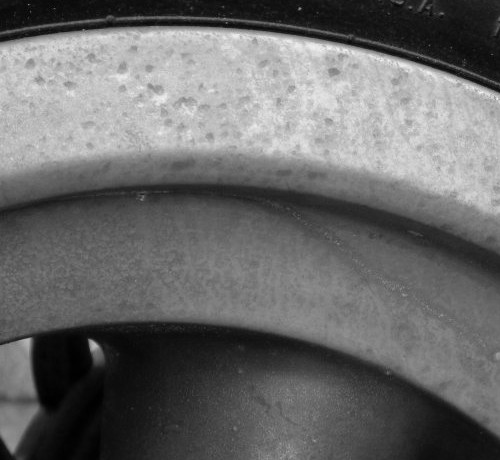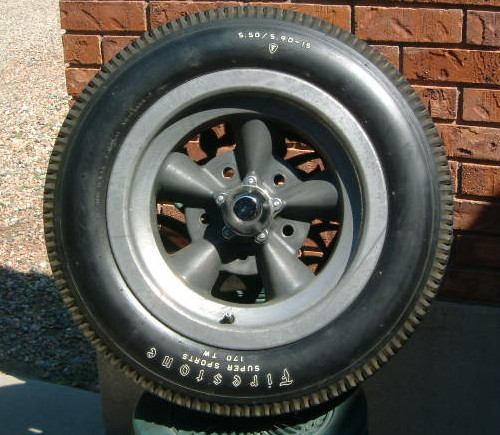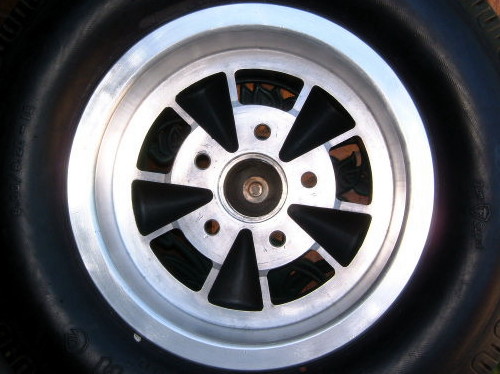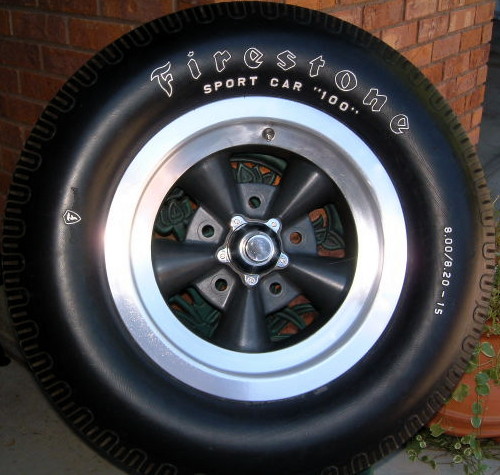 ---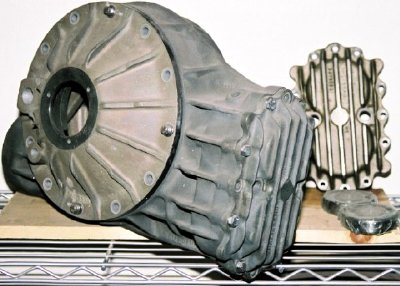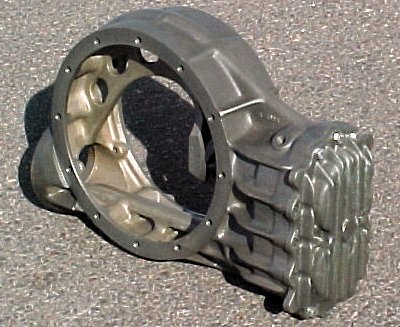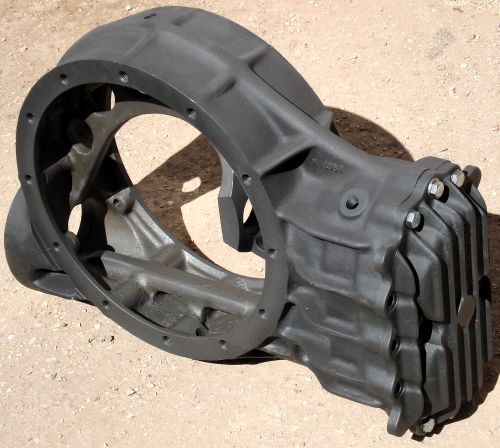 ---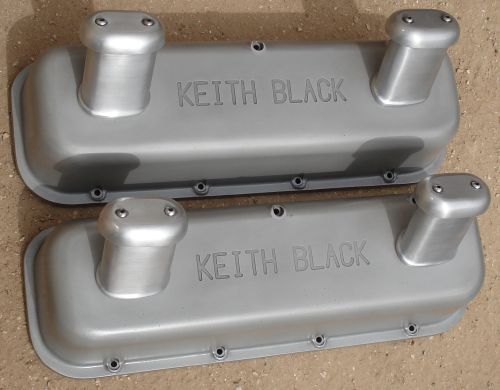 ---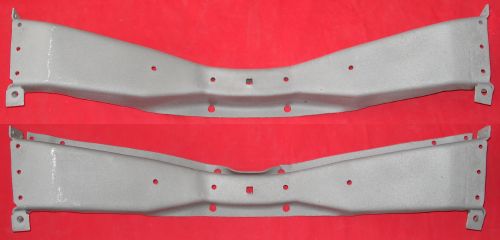 ---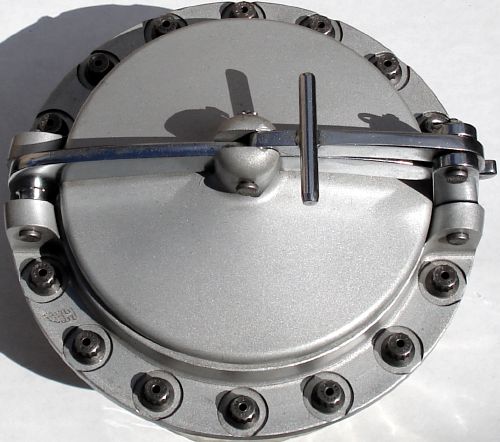 ---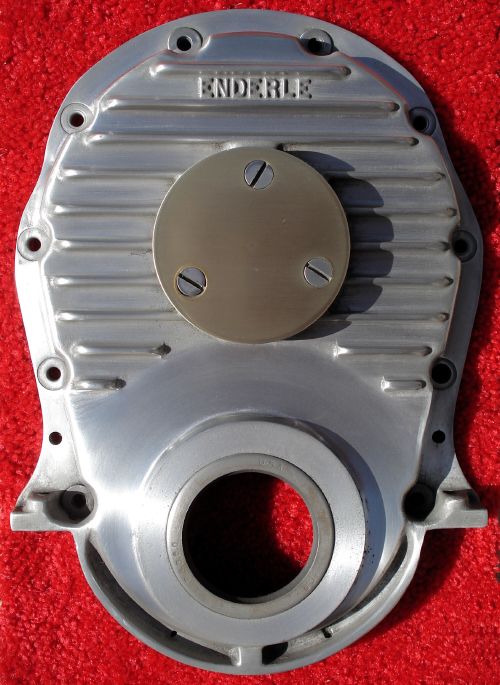 ---
Gibbs is also excellent at removing rust.

I bought the Chevy 454 engine block that's shown here from a machine shop back in 1997. The block had been completely stripped-down and hot-tanked, so it was clean and free of any paint, grease, or oil.

To fully season the block, I left it in the back of a truck that sat outside in Washington state for six years.

When I brought the block to my shop in Phoenix in the summer of 2003, it was completely covered with orange rust. When I touched it, it left orange powder on my hands.

I wiped the cobwebs off it and sprayed it with a heavy coat of Gibbs Brand. By the next day, the block had turned from orange to dark brown, and the rust had completely disappeared.

The pictures on the right show that same block. I have done nothing to it other than letting it sit outside for six years, wiping the cobwebs off it, spraying it with Gibbs Brand, and putting it on the engine stand.

The cast-iron block certainly has a patina, but there is no indication that the metal had ever been rusty.

The label on a can of Gibbs Brand claims that it not only removes rust, but also actually reverses the effects of the oxidization process. When I read that, it didn't make sense. But it really does. I've seen it happen.
---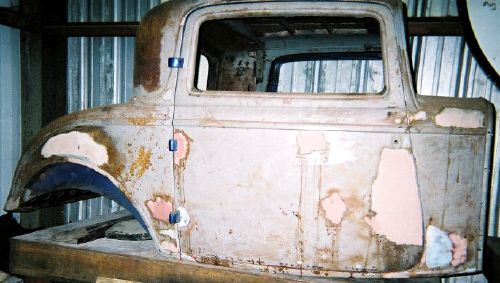 This picture shows the body for my 1932 Ford three-window coupe project the way it was when I found it in 2003.

The car was a neglected project that had been this way for years, with much of the body left in unprotected, bare metal.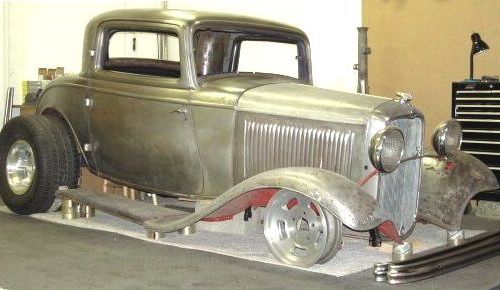 Here's the same body after I covered the outside of the body with Gibbs Brand, gave it time to soak in, and then sanded it down with a D/A sander. It took roughly half of a can of Gibbs to get the entire outside of the body good and wet. I then let it soak in for a couple of days before starting to sand it down.

In between taking both of these pictures, my coupe has absolutely no metalwork of any kind done. All I did was put on the Gibbs, sand down the body, and remove the body filler. On the outside of the body, there is now no indication that there was ever any oxidization on the car.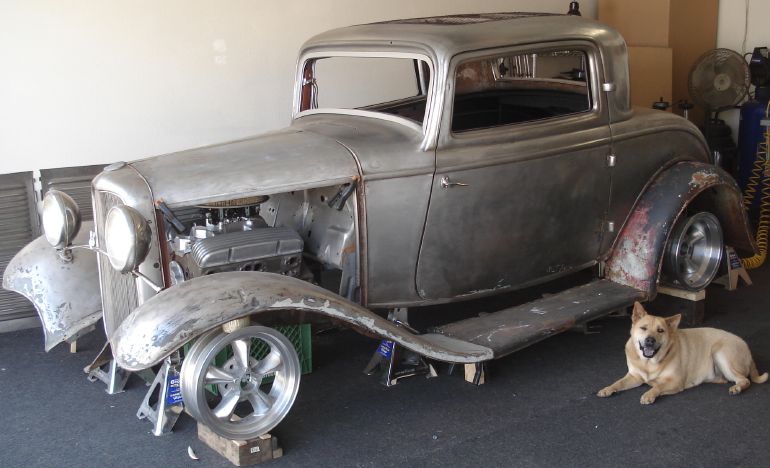 Here's my coupe in May of 2007, after having been protected by Gibbs Brand for three years.

---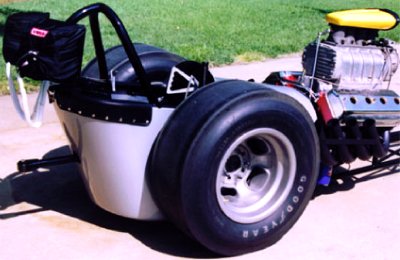 The late Pat Foster, at Foster Pro-Fab, used Gibbs Brand to protect all of the bare metal surfaces on one of the last dragsters he built, a recreation of The Surfers Top Fuel dragster.

The car is shown here with Gibbs Brand on the many of the interior parts, the steering linkage, and the Halibrand magnesium wheels.

In early 2005, shortly before the car was delivered, Pat bought his first case of Gibbs Brand. A few months later he told me that he was very happy with it, and got another case.
---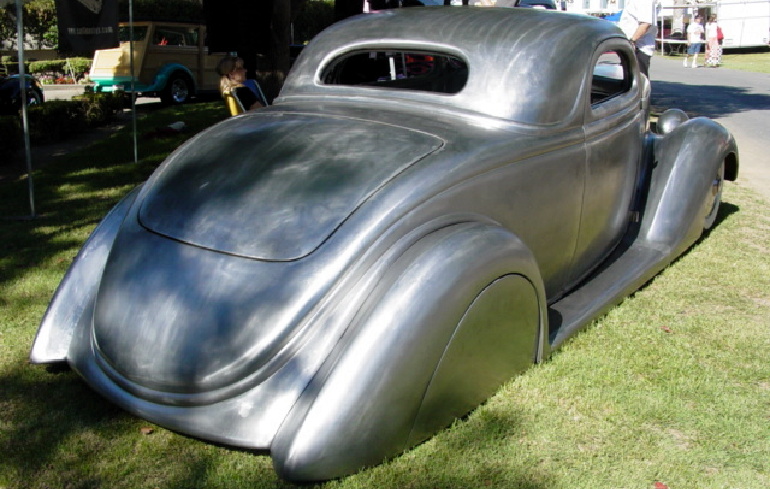 Pat Foster's son, Cole Foster, runs a hot rod, race car, custom car, and motorcycle fabrication shop in Salinas, California, called Salinas Boys Customs.

Cole used Gibbs Brand to protect the bare metal body on the 1936 Ford coupe that he built for Metallica guitarist Kirk Hammett.

The coupe features many subtle tricks. To give you an idea of the level of skill involved here, this chopped three-window coupe used to be a stock five-window. Look closely at the body. Can you see any seams?

In March of 2005, this car was featured in issue 27 of The Rodder's Journal, with the entire body protected with Gibbs Brand.

Since the summer of 2004, Cole has bought several cases of Gibbs.

When I asked him about his experiences using Gibbs Brand on the '36, he said, "I really like it. It's everything you promised for sure."
---
Gibbs Brand price list
---
Two 12-ounce cans
Four 12-ounce cans
Six 12-ounce cans
Case of twelve 12-ounce cans
$35
$55
$75
$120
including shipping
including shipping
including shipping
including shipping

We will not be undersold. If you see genuine Gibbs Brand being advertised anywhere for less, mention where you saw it when you place your order and we will match their price.

All of our Gibbs Brand orders are shipped by Fed-Ex Ground. Since Gibbs is pressurized, it cannot be shipped by air. Your order will be shipped within a few days of when it is received.

To order your Gibbs Brand, please use our order form. Thanks!


---
How to apply Gibbs Brand
---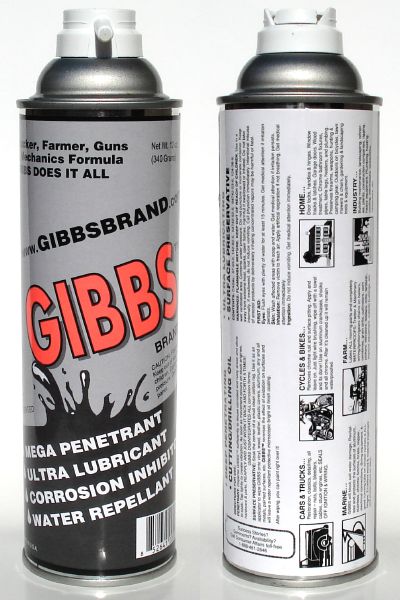 ---
Painting over Gibbs Brand
---
The label on a can of Gibbs Brand says that "you can paint right over it". However, common sense will tell you not to paint over an oily surface that isn't clean.

To paint metal that has been treated with Gibbs Brand, simply begin by wiping it down with whatever surface cleaner is recommended by the manufacturer of the particular paint system that you are using, and proceed as you normally would.

Due to the tremendous variety of ingredients that are used in paints, it is not possible to be absolutely certain that Gibbs Brand is compatible with every paint on the market. However, we are not aware of any compatability issues with any particular paint.
---


All text and images on Roadsters.com
are Copyright 1996-2013 Dave Mann