TIG-welded 1932 Ford frames
Last updated on September 28, 2013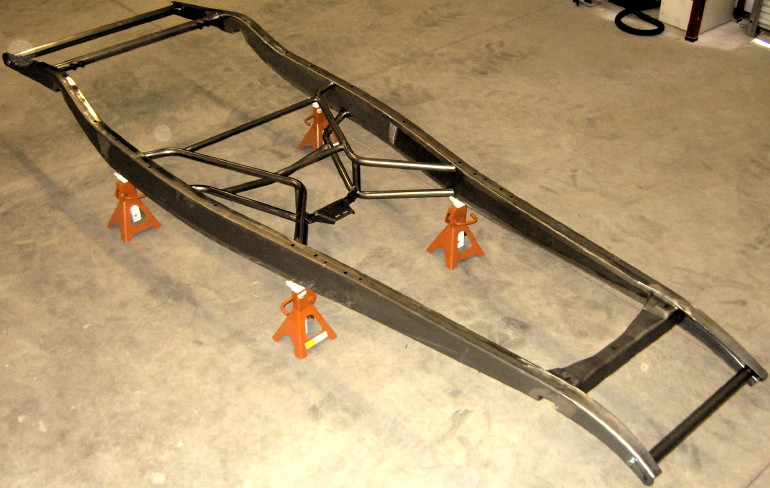 Our 1932 Ford frames feature superb workmanship and are only $1,650. This is a basic, bare 1932 Ford frame that can be used with virtually any automotive engine and transmission. They are completely heli-arc welded, and include stamped reproduction 1932 Ford frame rails, boxing plates, a stamped reproduction Model A front crossmember, an X-member assembly fabricated from mandrel-bent round tubing, threaded body mounts, a set of mild steel front and rear spreader bars, and a round tube rear crossmember for use with coil-over shocks. If you prefer, your frame can be supplied with a rear crossmember that is configured to accept a 1940 Ford transverse leaf spring for the same price.

The transmission mount provides some fore and aft adjustment, but engine mounts don't. The reason the frames are not sold with engine mounts is to make sure that they will be mounted where they need to go after the body is installed on the frame. The only way to be sure of where your engine mounts need to go is to mock up your car with your frame, firewall, engine, pulleys, and radiator all in place.

These TIG (tungsten inert gas) welds are not something you would want to grind away or hide like most street rod chassis builders who use MIG (metal inert gas) welding do. We leave them looking great. Nobody uses MIG welding on Top Fuel car frames, and you won't see anyone grinding down the welds on frames for race cars or aircraft, either.

The workmanship on these frames is as good as you will find anywhere. Before any welding is done, several hours are spent getting the frame rails just right in terms of contour and width. (Not every hot rod chassis builder does this.) The boxing plates and all of the other components are fit precisely in an accurate and rigid frame jig, and then everything is heli-arc welded together. The alignment is dead-on.

When you receive your frame, you can add your own choice of mounts for the engine and other components exactly where they need to go. This way, you can end up with exactly what you want, and you will have control over all of the parts on your car and how they all fit together. If you're not building a cookie cutter car, why use a cookie cutter frame?

The basic 1932 frame is available now for $1,650 plus truck freight from Bakersfield, California to your door. Your frame will be ready two to four weeks after we receive your paid order. If you have any questions, please call Dave at (602) 233-8400.

When you order your frame, please be sure to specify whether you'd like the rails C-notched at the rear or not, whether you are using coil-over rear shocks or a transverse leaf spring, and if you are building a car without fenders or if you want the frame built with all of the tapped holes for mounting fenders.

It will be your responsibility to arrange for the shipping company of your choice to pick up the frame in California within a month of its completion.

To order your frame, please phone Dave Mann at (602) 233-8400.
---
1932 Ford frames with recessed boxing plates
---
---
1932 Ford frames with original early Ford crossmembers
---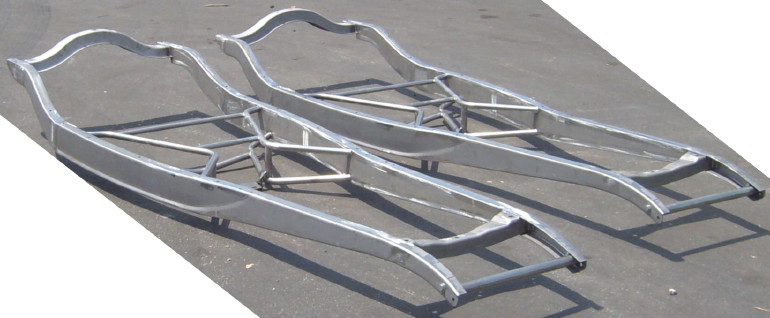 ---
1932 Ford frames for Model A bodies
---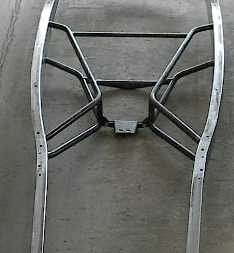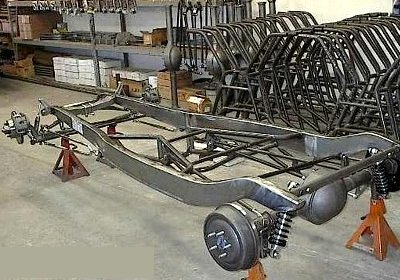 ---
1932 Ford frames for Model T bodies
---
Your frame or rolling chassis can be built to accept a '26-'27 Model T body for $100 over the cost of our $1,650 standard '32 frame. This involves pulling the frame rails 1 3/4" closer together.

When ordering, please specify if you are using an original Ford body or a fiberglass one, since some of the glass bodies have a different contour along the bottom.

As with our frames for Model A bodies, the narrowing and other details on these frames are done in such a way that the '32 frame and the Model T body will look like they belong together, not like something that was just stuck on top of something else.

Unless otherwise specified, the rear frame horns on these frames are trimmed off and finished.

---


All text and images on Roadsters.com
are Copyright 1996-2013 Dave Mann