Custom cars
Last updated on September 28, 2013
---
Pioneers of customizing
---



Custom cars are wild. They bring back all kinds of good memories for all of us.

Here's a quick look at some of the people who shaped not only the custom car trends but had an influence on the entire automotive industry.

The Alexander Brothers

Theirs was the work of brilliant designers and builders. They were talented enough to be contracted by Detroit manufacturers on occasion. Their most famous creation was the futuristic truck called the Deora - a very tasteful and elegant "cab forward" pickup. The Deora was one of the very few customs that was so popular it was also released as a scale model kit.

Joe Bailon

One of the very first customizers to surface anywhere, Joe's cars started rumbling down the hills of Northern California in the late Forties. Joe made countless contributions to customizing. Joe Bailon is also the inventor of candy paint — a translucent color coat over a (usually gold or silver) base coat.

George Barris

The Barris-built Model A roadster pickup called the Ala Kart won the America's Most Beautiful Roadster award at the Oakland Roadster Show. This car, among others, led to him being asked to build the original Batmobile (based on a Lincoln concept car called the Futura), and to other Hollywood cars used on the Monkees and Beverly Hillbillies television shows. George has written a book about his cars and another about his cars in movies.

http://www.barris.com/

Sam Barris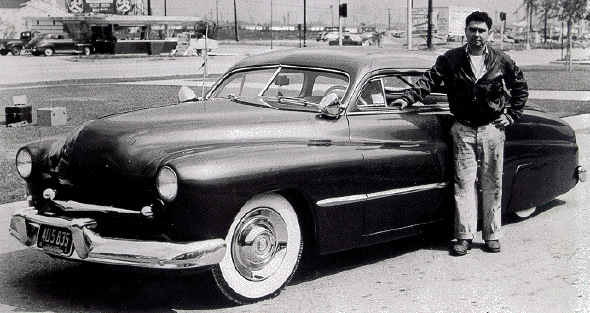 Carl Casper

Casper's Ghost was perhaps the wildest car ever to win the America's Most Beautiful Roadster award at the Oakland Grand National Roadster Show, in 1965. The body loosely resembled a '23 T roadster, with molded fins on the sides that arched upwards to the top of what would have been the pickup bed. Carl formed a nose influenced by Indy cars and added two blowers to the engine.

Some of his other creations include the Paddy Wagon, the Phone Booth T, the Popcorn Wagon, and the Undertaker. Carl was able to save his cars, and there may someday be a museum containing all of them. Have a look at the March 1999 issue of Rod & Custom for an article on Carl and his cars. He is currently a member of the Carriage Association of America, and a championship-winning restorer of ancient horse-drawn carriages.

http://www.carlcasper.com/

Norm Grabowski

Remember the car Kookie drove on 77 Sunset Strip? That was the creation of Norm Grabowski. This car started a trend, inspiring what became known as the "Fad T", with over a dozen companies producing fiberglass '23 Model T roadster bodies for hot rodders back in the Sixties.

Norm is still creating cars, motorcycles and other works of art including some really exceptional woodworking.

http://www.rumpsville.com/

Art Himsl

Brilliant, creative and tasteful bodywork and stunning paint jobs are seen on Art Himsl's work.

This man is one of customizing's real innovators and a great automotive artist.

He stays busy, and can be reached in his shop at (510) 798-3099.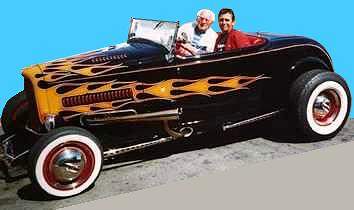 Tommy Hrones — "Tommy the Greek"

The original hot rod pinstriper. The master who started it all.

http://www.herbmartinez.com/tommy/tommy.htm

Dean Jeffries

Another one of the major forces in the custom car field, Jeffries' most famous creation was the Manta Ray, with a completely hand-formed body and an amazing candy paint job.

Dean also created a number of famous TV cars, including the one featured in the Green Hornet series.

Russ Meeks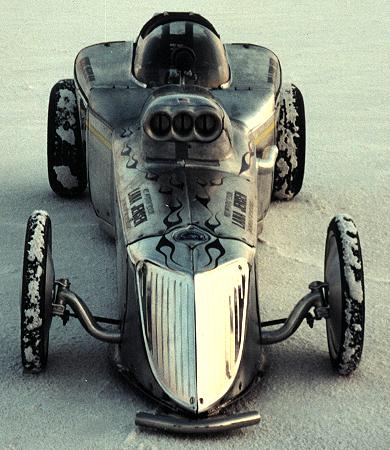 Russ moved from Portland, Oregon to go to work for Gene Winfield in 1964. While working with Gene Winfield, Russ helped build many wild custom cars. When Gene moved his operation to Phoenix in 1967, Russ decided he'd rather be back in Portland, and has been running his own shop ever since.

Russ designed and built a full-fendered Model A roadster with a tube frame and a flip-up body, powered by an Olds Toronado engine in the trunk. The car won the most prestigious award in hot rodding, the America's Most Beautiful Roadster award at the Grand National Roadster show in Oakland.

One of the prizes he won with the car was a new 427 Ford engine. His '56 Chevy Nomad, which he had sectioned and almost finished, needed an engine, so that's where it went.

Today you'll find Russ just south of Portland, running Finishline Coatings, where he adds ceramic thermal barrier coatings to a wide variety of automotive parts.

Russ devotes much of his time to his race car, that he runs at El Mirage and the Bonneville Salt Flats. The 1923 T Fuel Modified Roadster is completely handbuilt, with an aluminum body, a tube chassis, countless innovative details, and an injected GMC six on nitro. In fact, just about everything you see in this picture except for the salt and the tires was designed and handbuilt by Russ. He, his son, and daughter take turns racing the car.

Russ also has a long-term shop truck project that he has chopped, sectioned, lowered, finned, and louvered. When it's back on the road, it's going to put the old Rod & Custom magazine Dream Truck to shame.

Back when I lived in Portland, I would spend my Saturdays visiting Russ in his shop, where he was kind enough to let me work on parts for my 1932 Ford roadster project.

http://www.finishlinecoatings.com/

Tony Nancy

Tony Nancy was a master automotive upholsterer. Until his death in November of 2004, his Sherman Oaks upholstery shop provided the stitching for countless cars and boats.

When thinking back to the cars that knocked me out the most in the Sixties, I kept thinking of Tony Nancy's incredible roadsters and dragsters. No, they weren't "customs". But the race cars that Tony Nancy designed, built, and raced featured innovative engineering and great workmanship. They were works of art that need to be included in any documentation of the pioneers of customizing.

Ed Roth



"Hey, baby! Dig this crazy cat, man! His ride is like Coolsville!"

Roth's cars and artwork knocked us all out. Brilliant work.

His "Tweedy Pie" T-bucket was my favorite of his creations. Others he built featured bubble tops, incredible bodywork and very innovative paint. Roth's T-shirt art became legendary, keeping us kids happy and our parents just a little concerned.

If genius is doing that which has not been done before, Ed Roth certainly qualified, along with everyone else in this section. He was a visionary, and a true artist. Born in 1932, he continued building wild cars at his shop in Utah until his death on April 4th, 2001.

In the world of hot rods and custom cars, there have probably been more testimonials written by people who were influenced and entertained by Ed Roth than anyone else.

http://www.ratfink.org/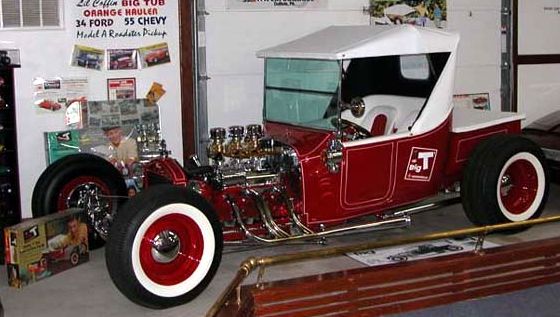 Darryl Starbird

More wild custom cars came rolling out of the Wichita, Kansas shop of Darryl Starbird in the Sixties. His work was imaginative, with radical bodywork and bubble tops being two of his trademarks.

Darryl is still with us, building imaginative cars. He has also put together a hall of fame and museum for classic custom cars and their creators.

http://www.darrylstarbird.com/

Von Dutch

Kenneth Howard was a truly brilliant and innovative pinstriper and engraver, a gifted artist, an eccentric and anti-social hermit, and a misunderstood genius.

Invite him into a crowded party, and he'd just as soon retreat to the tranquillity of the kitchen, where he'd pinstripe the fridge.

http://www.theartofvondutch.com/

Larry Watson

One of the fathers of automotive custom painting, Larry's contributions to customizing date back to the mid-fifties. Flames, scallops, lace, pearls...he used them all, and developed some of these techniques, too.

When I worked in a body shop in San Jacinto, California that specialized in top-quality work on hot rods and custom cars, Larry regularly dropped in for a visit, and always brought enthusiasm with him.

Larry can be found near Elsinore, California, in Canyon Lake, where he's semi-retired and wrote a book about the early days of customizing.

Gene Winfield

Another of the innovators whose cars have been featured internationally, Gene Winfield has always been known for building tasteful custom cars.

One of the many beautiful cars Gene created is a mid-Sixties Buick Riviera that he did back in the Seventies. The body mods were subtle except for the trailing edges of the B-pillars having been extended down each quarter panel. But what really makes the car, aside from its clean lines, is the paint job Gene gave it, with panels fading very gradually into a darker color. This is one of the most difficult challenges for a painter, and Gene did a flawless job. The paint is stunning.

Gene is still around, too. You can reach him at Winfield's Rod & Custom Construction, 8201 Sierra Highway, Mojave, CA 93501, (661) 824-4728

http://www.winfieldcustoms.com/




---
Great cars to customize
---



Some cars are just built for customizing. Many of the cars listed here were designed by stylists who had been influenced by customizers. They are listed chronologically.

1936 Ford roadster, phaeton, three-window coupe and Tudor
1939 Ford Deluxe convertible, convertible sedan, Tudor and coupe
1939-'40 Mercury convertibles
1940 Ford Deluxe convertible, Tudor and coupe
1946-'48 Ford coupes, sedans and convertibles
1946-'53 Buick convertibles and torpedo-back Sedanettes
1949-'51 Ford coupes and convertibles
1949-'54 Chevy hardtops, torpedo-back sedans and convertibles
1952-'54 Ford Tudor sedans and convertibles
1957 Ford Tudor hardtop and Ranchero
1957 Olds two-door hardtop
1958 Chevy Impala two-door hardtop and convertible
1958 Thunderbird hardtop and convertible
1961 Chevy Impala two-door hardtop
1961 Ford Starliner two-door hardtop
1961 Pontiac Bonneville and Catalina two-door hardtop
1962 Chevy Impala two-door hardtop
1963-'65 Buick Rivieras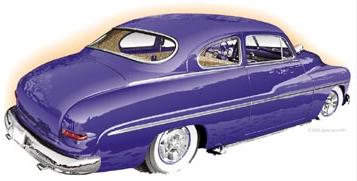 I've saved the best of them for last. Just as the 1932 Ford is known as the definitive hot rod, the definitive custom car is the Mercury coupe built from 1949 through 1951. More than any other car ever built, the '49 Merc captures the essence of a look and a culture. This is the car that inspires dreams.

All this talk about customs makes me want to build a mean, mild Merc for the rain. Dechromed, hammered and lowered, with Appleton spotlights, wide whites and Moon discs, and a flathead rumbling through glass-packs.

"Pardon me, do you have any Gray Primer?"




---
Custom car people
---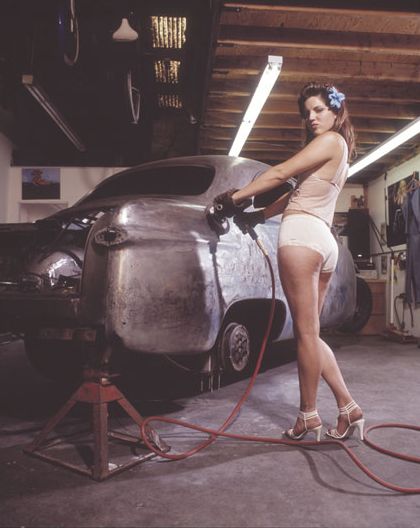 58Chev.com
http://www.58chev.com/

Championship Auto Shows, Inc.
http://www.casionline.com/

Cruisin' USA
http://www.cruisin-usa.com/

Custom Kemps of Sweden
http://www.ckos.org/

John D'Agostino Kustom Kars
http://www.johndagostinokustomkars.com/

James Dean Memorial Gallery
http://www.jamesdeangallery.com/

Don's Hot Rod Page
http://www.donshotrodpage.net/

Rick Dore Kustoms
http://www.rickdore.com/

Chip Foose
http://www.chipfoose.com/

German Car Hop
http://www.carhop.com/

Goodguys Rod and Custom Association
http://www.good-guys.com/

Grim Rides — Classic hearse owners club in San Francisco
http://www.grimrides.com/

Grand National Roadster Show
http://www.hotrodshows.com/

Tommy Hrones — "Tommy the Greek" — The original hot rod pinstriper.
http://www.herbmartinez.com/tommy/tommy.htm

Imperial Customs — master of metalflake
http://www.imperialcustoms.com/

ISCA — International Show Car Association
http://www.theisca.com/

The Kontinentals
http://www.kontinentals.com/

Kustoms Illustrated
http://www.kustomsillustrated.com/

Kustoms of America — Lead sled city
http://www.kustomsofamerica.org/

The Lonestar Round Up — in Austin, Texas
http://www.lonestarroundup.com/

Nostalgia Productions, Inc. — organizes car shows, swap meets and more
http://www.nostalgia-prod.com/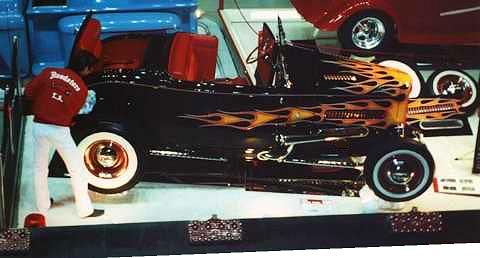 Tommy "the Itch" Otis — pinstriping, flames, and how-to videos
http://www.tommyitchotis.com/

Petersen Automotive Museum
http://www.petersen.org/

Portland Rod & Custom Show
http://www.hotrodshows.com/

Road Zombies
http://www.roadzombies.com/

Ed "Big Daddy" Roth
http://www.ratfink.org/

Rumpsville
http://www.rumpsville.com/

The Sacred Karts of San Diego
http://www.sacredkarts.com/

Salinas Boys
http://www.salinasboys.com/

Greg Spradlin — Custom car graphics
http://www.gregspradlin.com/

Darryl Starbird's Hall of Fame Museum
http://www.darrylstarbird.com/

Jimmie Vaughan
http://www.jimmievaughan.com/blues/cars/

Von Dutch
http://www.theartofvondutch.com/

Richard Zocchi's Custom Cars
http://www.zocchicustomcars.com/




---
Custom car parts sources
---



This site's Speed Equipment Directory has hundreds of links to aftermarket manufacturers, and the Hot Rod Parts page also has lots of links. Only the companies that specialize in parts for customs are listed below.

Air Ride Technologies — Air bag suspension
http://www.ridetech.com/

C.J. Allan's Custom Engraving
http://www.cjs-engraving.com/

AutoLoc — Electric door and trunk kits
http://www.autoloc.com/

Fergie's Custom Louvers
http://www.hotrodlouvers.com/

JAMCO Engineered Products
http://www.jamcosuspension.com/

Mooneyes
http://www.mooneyes.com/




---


All text and images on Roadsters.com
are Copyright 1996-2013 Dave Mann