Bonneville Speed Week
Last updated on September 26, 2013
---
The Bonneville Salt Flats
---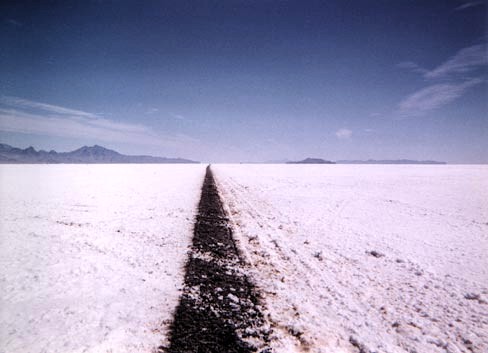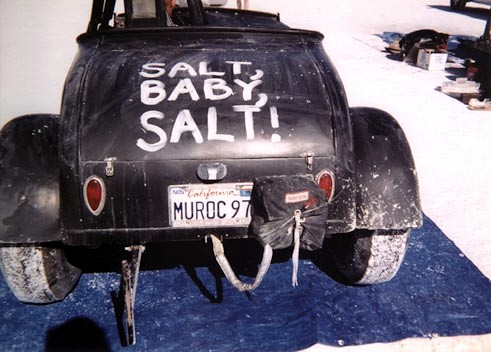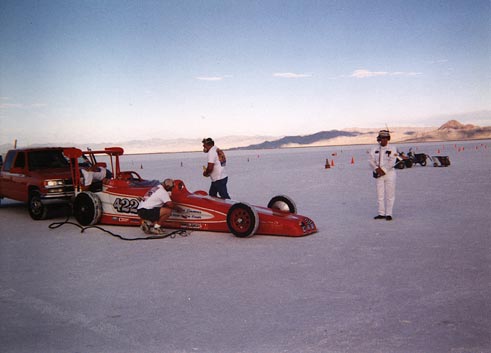 Make sure you've got your sun screen and lip balm on, and take a walk through the pits. In every single pit spot at Bonneville you'll find enthusiasts who are talented, creative and dedicated. The atmosphere is quite unique.

Now some people call NASCAR a "family", and to a certain extent, that's true. Them good old boys likes to look after each other, as long as they's all good old boys. Well, Bonneville racers are a family, too. But one of the differences between the two families is that you don't have to have been born in a particular part of the country (or the world) to join ours. And best of all, you don't even have to chew tobacco or pretend to like country music.

The pits are made up of three rows maybe a quarter-mile long, with a wide access road on each side of each row of pit spaces. Lots of room. (The pit spaces are not reserved, so the earlier you arrive, the more choices you'll have in deciding where you set up your pit.) Pick a row and start walking. Things are pretty well-mixed throughout the pits, with no particular areas set aside for particular types of vehicles.

One thing about Bonneville that will impress you is the variety of cars and bikes you'll find there. You'll find dozens of every conceivable kind of race car and motorcycle here, from the classic, rusty roadsters and coupes through the Studebakers and Camaros and Chevy Monzas all the way up to the cutting-edge, carbon fiber lakesters and streamliners.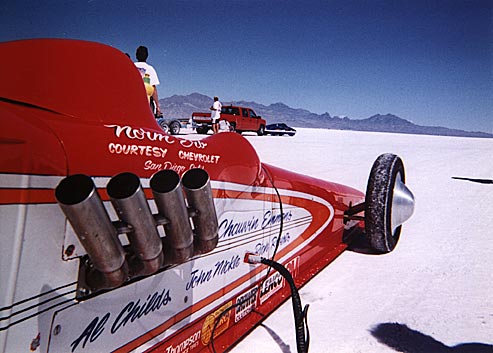 You'll be able to find virtually every type of engine you can imagine at Bonneville, including Model A Ford inline four-cylinders, Ford flathead V-8s with and without Ardun overhead-valve conversions, vintage Chevy and GMC inline sixes, versions of the Chrysler Hemi ranging from the early 331 to the latest offerings from Keith Black and others, and dozens of small-block and big-block Chevys. And then there are the huge diesel trucks, the cars that run on batteries, and a couple of turbine-powered streamliners.

Motorcycles include flathead-powered Harley-Davidsons and Indians, old and new Triumphs, BSAs and Nortons, the occasional Italian roadracer, and an array of Japanese bikes spanning the last several decades.

In addition to the variety of types of vehicles there, you'll also find a wide cross-section of race team budgets on the salt, from eighteen-wheel transports with spare everything, air conditioning and huge awnings down to the little guys with small race car trailers, a few tools, and not enough spare parts.

On the first day there's an outdoor drivers' meeting and opening ceremony that anyone can attend. Even if you're not a competitor, this can help you appreciate and understand what's going to happen for the rest of the week, as well as what it takes to make an event like this happen. The key word here is volunteers. They are the ones who make Speed Week possible by dealing with the BLM, bringing and setting up the timing equipment, dragging the racing surface and access roads smooth, and doing everything else that needs to be done.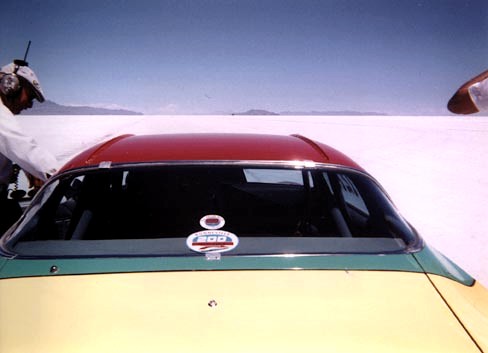 ---
Team Vesco and the Turbinator streamliner
---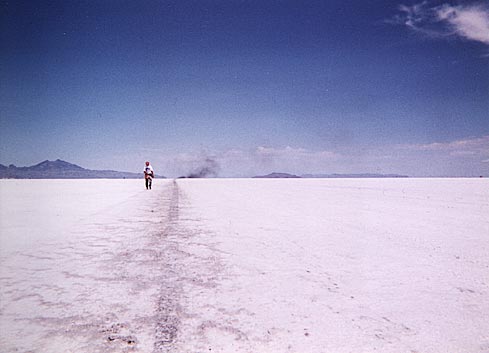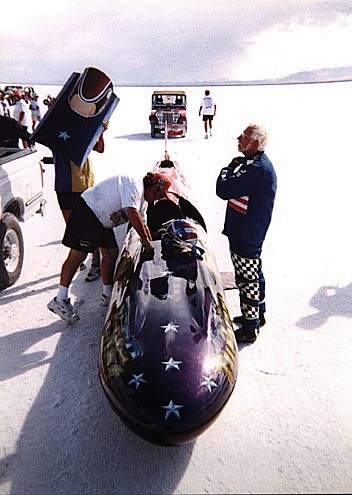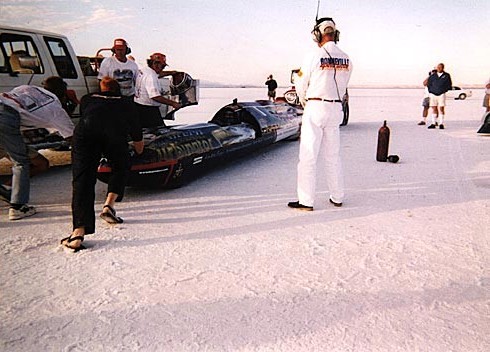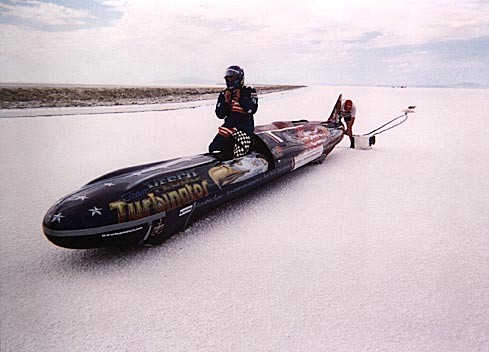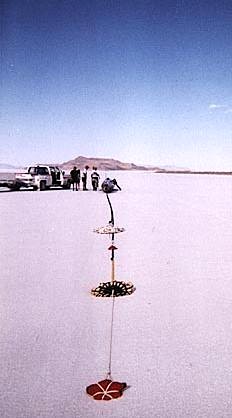 ---
Links to related sites
---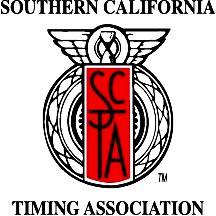 Events at the Bonneville Salt Flats are organized by several sanctioning bodies, each hosting several events per year.

Here are some other Web pages to visit to learn more about racing at Bonneville:

Land Speed Record Racing
http://www.roadsters.com/racing/

Southern California Timing Association and Bonneville Nationals, Inc.
http://www.scta-bni.org/

Utah Salt Flats Racers Association
http://www.saltflats.com/








---


All text and images on Roadsters.com
are Copyright 1996-2013 Dave Mann