Model car kits
Last updated on September 28, 2013
---
Introduction
---



Most of us remember building model car kits when we were kids. I built dozens of them and still enjoy the hobby, both as a builder and a collector.

Looking back, there were a few kits I had back then that I wish I had today, like the very rare, original Lincoln Futura concept car, a model of the car George Barris later built the original Batmobile from.

My all-time favorite model kits are the Monogram 1/8-scale kits, especially the "Big Deuce" 1932 Ford roadster. This kit originally came out in 1963, in red or yellow plastic. Monogram re-released the Big Deuce kit in black plastic in 1978, renaming it the "1932 Ford Street Rod". In December of 1997, 4,000 more kits were produced, this time in white plastic, and they sold out quickly.

After searching for them, I've bought three different Big Deuce kits. In May of 2001, I found an original red one from 1963 just only had a couple of parts glued together. The hood has been split down the middle and the stock grille insert is missing, so I'd like to find those two parts for it.

The other two kits are both the black 1978 versions. One is missing a few parts, and some of the plated parts have faded. The other, which I bought in June of 2001, is still sealed in its original plastic, and for now that's the way it will stay.




---
Model car kit builders
---
Models by Eric Anderson
http://www.thefidgiter.com/
Brian's Model Cars
http://www.briansmodelcars.com/
Curtis Hilton — creative hot rod and custom car models
http://www.cjhilton.com/models/
"Yosemite Sam" Radoff — custom cars and hot rods
http://www.yosemitesams.com/
Rick's Ferrari Scale Models
http://www.ferrariscalemodels.com/
Rivers Bend Ranch
http://www.riversbendranch.net/
Scale Model Corvettes
http://www.scalecorvettes.com/
Scale Visions by Don Theune
http://www.scalevisions.com/
Weber Precision
http://www.weberprecision.com/
---
Model car kit manufacturers
---
ABC Brianza
http://www.abcbrianza.com/
AMT / ERTL — now owned by Racing Champions
http://www.ertltoys.com/
Tom Daniel
http://www.tomdaniel.com/
Ugo Fadini Land Speed Record Models
http://www.ugofadini.com/
Fisher Model and Pattern
http://www.fishermodels.com/
Reliable Resin
http://www.reliableresin.com/
Revell-Monogram
http://www.revell.com/
Ricambi
http://www.ricambi.com/
Tamiya
http://www.tamiya.com/
Testors
http://www.testors.com/
---
Model car kit parts manufacturers
---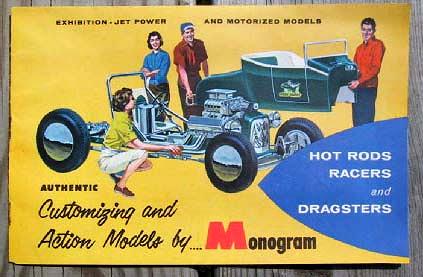 ---
Model car shops
---
Dean's Hobby Stop
http://www.deanshobbystop.com/
eDeuce — specializing in 1/8-scale model car kits
http://www.edeuce.com/
Hobby Stores on the Net — links to lots of shops
http://www.hobbystores.com/
Hobbymasters
http://www.hobbymasters.com/
Model Express
http://www.modelexpress.net/
Model Roundup
http://www.modelroundup.com/
Scale Dreams
http://www.scaledreams.com/
Southern Motorsport Hobbies
http://www.smhracing.com/
Spotlight Hobbies
http://www.spotlighthobbies.com/
Tower Hobbies
http://www.plastic-models.com/
---
More model car sites
---



A Case Place — display cases for models
http://www.acaseplace.com/

American Miniature Racing Car Association — tether cars
http://www.amrca.com/

Car Model Magazine
http://www.carmodeler.com/

Fine Art Models — handbuilt, limited-edition vintage sports car models
http://www.fineartmodels.com/

Hallen Display Cases — display cases for models
http://www.hallendisplaycases.com/

Herm's Slot Shop — vintage slot cars
http://www.vintageslotcars.com/

M.A.X. — Models Are Xtreme
http://www.rccars.com/

Model Car Hub
http://www.modelcarhub.com/

National Model Car Builders' Museum
http://www.themodelcarmuseum.org/

PJ Tool & Supply
http://www.pjtool.com/

Scale Auto Magazine
http://www.scaleautomag.com/




---


All text and images on Roadsters.com
are Copyright 1996-2013 Dave Mann