Chrysler Hemi engines
Last updated on September 28, 2013
---
Introduction
---



Since its introduction in the 1950s, no other engine has come close to equaling the role the Chrysler Hemi has played in Top Fuel drag racing or on the salt flats.

Hot rodding pioneers like Joe Mondello did great things with Oldsmobile engines as Mickey Thompson did with Pontiacs, and Tommy Ivo did with Buicks. But the Chrysler 392 quickly became the engine of choice on the strip, as well as on the salt, and the dry lakes.

The 392 was built to last. I've owned one, a '58, which I bought when I lived in Harrisburg, North Carolina. I can tell you that having carried all three, a stock 392 cylinder head feels more than twice as heavy as a Donovan small block Chevy block or a Holman and Moody aluminum 427 Ford block. Even a water pump off a 392 weighs more than two or three good mountain bikes. But if the Hemi hadn't been built so stout, it never would have survived to achieve its status.

Once the Hemi had established its dominance in drag racing, engineering visionaries that included Keith Black designed and produced reinforced aluminum blocks and free-breathing aluminum heads for the Hemi which were better suited to blown and injected nitro racing.

To this day the engines used in virtually all Top Fuel cars and Funny Cars, back to the Keith Black engines, and the JP1 engines that were made by the late Joe Paisano, are all based on the Chrysler 426 Hemi.

It's unfortunate that there are some of you that have yet to experience the sound of a Hemi on nitro. I'll extend myself just a tad by summing it up this way:

"Now I've been to church and I've been to the drags, and brothers and sisters, for those of you who have never heard a Hemi on nitro, get thee to the drag strip when the Fuel cars are running. Get thee a pit pass, and bring thyself to a Fuel car being tuned up. Listen to the overwhelming sound of what must be the closest thing you can hear in this life to The Sound Of God. Reach out, brothers and sisters, and bask in the glory of the almighty Hemi. For I have heard the Hemi testify. And I believe! Yayass, I believe."




---
Chrysler Hemi sites
---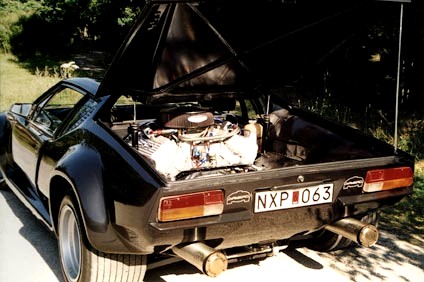 AllPar — by Steve Boelhouwer
http://www.allpar.com/

Classic Hemi
http://www.classichemi.com/

Hemi Pantera
http://www.hemipanter.se/

Mo-Power Events
http://www.mo-powernow.com/

Mopar Parts and Accessories
http://www.mopar.com/performance/

Mopar's Infamous Hemi
http://www.thehemi.com/

Fred Ristagno's Pro Stock Hemis — The original Sox and Martin Pro Stock Hemi Duster, and the world's quickest and fastest Road Runner — 7.21 at 193
http://www.prostockhemi.com/

You'll find links to more Mopar-related Web sites on the Muscle Cars page.




---
Chrysler Hemi parts sources
---



You'll find thousands of links to speed equipment manufacturers' Web sites in the Speed equipment directory, and have a look on the Muscle cars page too.

American Hemi Speed Center — in Australia
http://www.hemi.com.au/

BAE — Brad Anderson Enterprises, Inc.
http://www.bradanderson.com/

Billet Machining Technology, Inc. — 392 and 417 heads
http://www.webster-racing.com/

Keith Black Racing Engines
http://www.keithblack.com/

Capanna Company — transmission adapters and valve covers
http://www.wilcap.com/

Cavalieri Racing Equipment
http://www.hemipartsking.com/

Cirello Magnetos
http://www.tomcirellomagnetos.com/

DLI — Dick Landy Industries
http://www.dicklandy.com/

Dvorak Machine
http://www.dvorakmachine.com/

For Hemis Only
http://www.forhemisonly.com/

HEMInet
http://www.heminet.com/

Hot Heads Research & Racing, Inc. — trick 392 parts
http://www.hothemiheads.com/

Alan Johnson Cylinder Heads
http://www.alanjohnsonperformance.com/

Koller Dodge — crate engines and parts
http://www.kollerdodge.com/

Mooneyes — valve covers
http://www.mooneyes.com/

Mopar Performance Parts
http://www.mopar.com/

Moparts
http://www.moparts.com/

Nielson Vintage Racing Cams
http://www.nielsoncams.com/




---


All text and images on Roadsters.com
are Copyright 1996-2013 Dave Mann