Classic trucks
Last updated on September 28, 2013
---
'67-'72 Chevy trucks
---



With the introduction of the 1973 model year, we realized that 1972 was the end of an era for all American cars and trucks. The series of Chevy trucks that was produced from 1967 to 1972 was popular for many reasons.

These were real trucks. They didn't pretend to be big cars. (That came later.)

For those of you who are learning about these trucks, it's fairly easy to tell what year they are. The six years of production, from 1967 to 1972, are divided up into three groups of two years. We have the '67-'68 trucks, the '69-'70s and the '71-72s.

1967 and 1968 trucks shared the all-new body introduced in 1967. When I first saw a '67 I decided right then I'd have one someday. The only real difference between the two is that the '68s had the federally-mandated side marker lights that are found on all American cars and trucks from that year on. The 1967 Chevy trucks had some of the nicest styling we'll ever see on a truck. The early '67 pickups came with a small back window that was only available that year in this series of trucks.

1969 and 1970 Chevy trucks differ mainly in having new front end sheet metal. Gone is the sloping hood that was unique to the '67 and '68 trucks, replaced with a version that has a more upright leading edge. The '69 and '70 models are easy to find, and since they lack some of the features introduced in 1971 they are less expensive to buy than the '71 and '72 trucks.

The hood and front fenders interchange between 1969 through 1972 trucks, with the only difference being the mounting holes for the bowtie emblem on the '69 and '70 hoods, which was moved to the inner grille on the '71 and '72 models. Many of the other parts also interchange, except for the wheels on half-tons, and the front brakes.

1971 saw the introduction of front disc brakes on all Chevy light trucks. That year, all half-ton pickups and Suburbans were built with five-lug wheels in a five-inch, "five-on-five" bolt pattern. (This bolt pattern is shared with some GM full-sized cars.) The 1971 and 1972 trucks were given new inner and outer grilles that lacked the center bar used on the '69 and '70 models.

1972 was "the last of the all-steel trucks", since interiors were almost completely covered with plastic starting with the '73 trucks. The trend was for the industry to produce trucks that provided the comfort and luxury found in full-size cars, with power windows being offered for the first time in Chevrolet trucks.

There's no doubt that the trucks that Chevy produced between 1967 and 1972 are classics. Their simplicity, a good supply of original replacement parts and the wealth of reproduction and aftermarket parts for them combine to ensure they will be popular for a long time.




---
Classic Chevy truck parts sources
---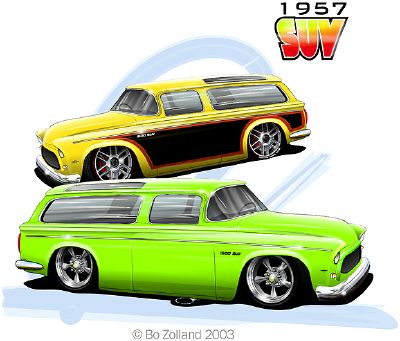 ---
Classic Chevy truck resources
---



Antique Chevy Trucks — '47-'66 Chevy and GMC truck information
http://www.antiquechevytrucks.com/

ChevyTrucks.org — '41-'59 Chevy truck information
http://www.chevytrucks.org/

Old GMC Trucks.com
http://www.oldgmctrucks.com/

The Stovebolt Page — for pre-'73 Chevrolet & GMC trucks
http://www.stovebolt.com/




---
Classic Ford truck parts sources
---



Bobco Auto — specializes in building custom Ford F-100s
http://www.bobcoauto.com/

Dennis Carpenter Reproductions — Reproduction early Ford parts manufacturer
http://www.dennis-carpenter.com/

John's F-Fun Hundreds — 1948 to 1972 Ford truck parts
http://www.johnsf100.com/

Mid-Fifty F-100 Parts — 1953 to 1956 Ford truck parts
http://www.midfifty.com/

No Limit Engineering
http://www.nolimit.net/

Patrick's Antique Cars — engine parts for early trucks
http://www.patricksantiquecars.com/

Sacramento Vintage Ford
http://www.early-ford.com/




---
Classic Ford truck resources
---



Ford Truck Enthusiasts
http://www.ford-trucks.com/

Links to Ford truck clubs, events, and resources are on the page about our 1956 Ford panel truck project.




---
More classic truck parts sources
---
Auto Custom Carpets, Inc.
http://www.accmats.com/
Double D's Custom Trucks & Rods
http://www.doubledparts.com/
Eaton Detroit Spring
http://www.eatonsprings.com/
Empire Motor Sports — billet aluminum interior parts
http://www.empirevehicleaccessories.com/
Fat Man Fabrications — chassis and suspension parts
http://www.fatmanfab.com/
Fine Lines — reproduction pre-bent lines for classic trucks
http://www.finelines.com/
Frantsen's Stainless Products — stainless steel pickup bed parts
http://www.frantsen.com/
Gaylord's — fiberglass tonneau covers
http://www.gaylordslids.com/
Goodmark Industries, Inc. — steel body parts and trim
http://www.goodmarkindustries.com/
Greg's Automotive
http://www.gregsonline.com/
International Title Service
http://www.its-titles.com/
Kanter Auto Products
http://www.kanter.com/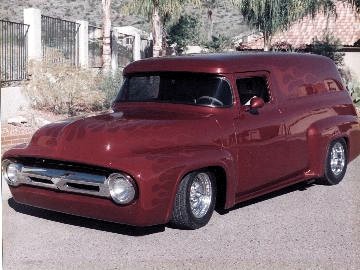 ---
More classic truck sites
---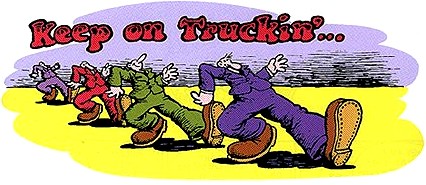 American Truck Historical Society
http://www.aths.org/
BuyTruckStuff
http://www.buytruckstuff.com/
Iaccino Fabrication
http://www.ifcustom.com/
The Pickup Truck Home Page
http://www.pickuptruck.com/
Pickups N Panels of North Texas
http://www.pickupsnpanels.com/
Quigley Motor Company — four-wheel-drive conversions for late-model Suburbans and vans
http://www.quigley4x4.com/
RaysChevy.com
http://www.rayschevy.com/
The Stovebolt Page
http://www.stovebolt.com/
Tom Teixeira's 35pickup.com
http://www.35pickup.com/
---
Why we love Suburbans
---



Why do we love Suburbans? Because the Suburban is such a great compromise.

Most of us buy trucks so we can haul stuff around. We want the space that a full-size truck provides. But did you ever notice that whenever you get into someone's pickup, they've always got their stuff spread out all over the front seat? With a pickup, just about everything you carry in the thing has to sit back in the bed, where it's exposed to the weather — fine if you don't mind leaving everything out in the rain.

I've seen more than a few pickup owners looking at my Suburban. I call it roof envy.

Suburbans make great race car trailer haulers, grocery getters, parts haulers and daily drivers. There's not much you'll ever have to move that won't fit in the back of one, and when the time comes you can pull a trailer with one that will hold virtually anything.

Another nice thing about a Suburban as opposed to a pickup, or even compared to a pickup with a shell on the back, is that the gas tank has been moved to behind the rear axle housing, sparing the truck's occupants from the gasoline fumes that you can't escape in many pickups.

There's no denying that Suburbans are trucks. They're built on the same chassis as a long-wheelbase pickup. From the front seat forward, they're the same as a pickup, and virtually everything interchanges between the two.

One other thing that's neat about Suburbans is that in many states they aren't registered as trucks — they're considered wagons and use car plates instead of truck plates, and aren't required to have the gross vehicle weight rating lettered on the sides of the body. This is also the case in the sales literature for the 1972 Suburban. It isn't mentioned in the 1972 pickup brochure, and is featured in the Wagons brochure.

The rarest body style of the '67-'72 Chevy truck family is the panel truck. These were last produced in 1970, and dropped when Chevrolet introduced their completely-redesigned van in 1971. The '67-'70 panel trucks have two side doors and every one I've seen had panel doors on the back.

Most panel trucks you'll find now have done a lot of hard work in their lives and are pretty tired. Like pickups, not many of them were pampered. But that's one thing in the Suburban's favor. Since so many of them were used as family grocery-getters and mostly driven by their owners (rather than the company employees who drove company pickups and panels), you're much more likely to come across an old Suburban in nice shape than an original classic pickup or panel truck.




---


All text and images on Roadsters.com
are Copyright 1996-2013 Dave Mann