Roadsters.com T-shirts
Last updated on January 2, 2010
Roadsters.com T-shirts start at only nine dollars, and are available in white or black, in small, medium, large, XL, XXL, XXXL, and XXXXL.

The artwork for the Roadsters.com shirts was designed by Dave Mann, the creator of Roadsters.com, and drawn by Indiana hot rodder and master technical illustrator Bill Drake. This drawing was based on the original artwork that Bill did for this site back in 1997, with some changes. Our traditional 1932 Ford roadster now has bias-ply front tires, new headlight mounts, front shock mounts, and a revised dropped and drilled I-beam front axle, along with a new curved Dick Rodwell windshield designed by Stanley Wanlass.

They now have artwork that is a couple of inches taller and wider than what's shown in these pictures.

For the shirts themselves, we are using Jerzees "ZT" shirts, because they are the softest T-shirts that we could find. These pre-shrunk, 100%-cotton shirts cost almost twice as much as the popular Hanes "Beefy T" shirts, but we decided that their superior quality is well worth it. Our screen-printer has printed custom T-shirts for hundreds of customers, but we are their first customer to pay the extra cost for what we believe are the finest T-shirts available.

We try to keep all sizes and colors in stock. You can order your shirts now and they will be sent to you by Priority Mail on the same day that your order is received.

These shirts make great gifts.

To order yours, please use the Price List and Order Form.

Thanks!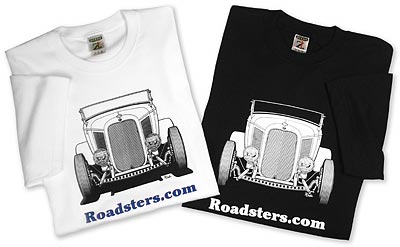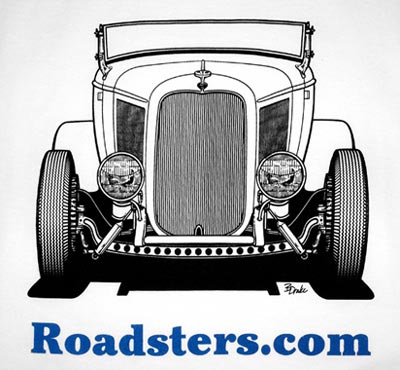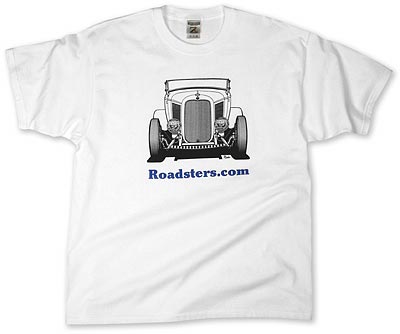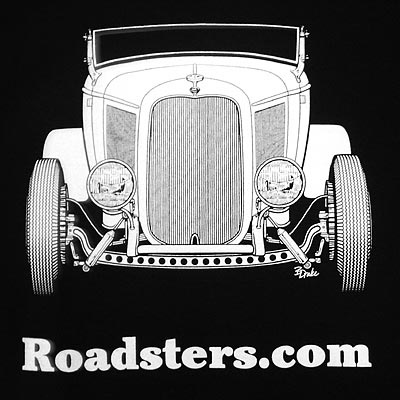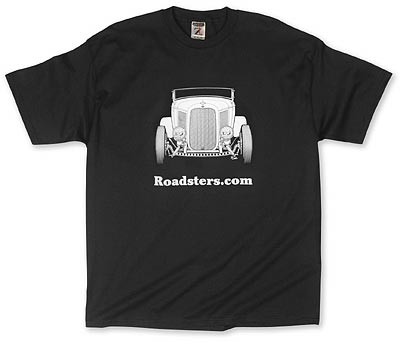 ---


All text and images on Roadsters.com
are Copyright 1996-2012 Dave Mann