Harley-Davidson parts
Last updated on September 28, 2013
---
Introduction
---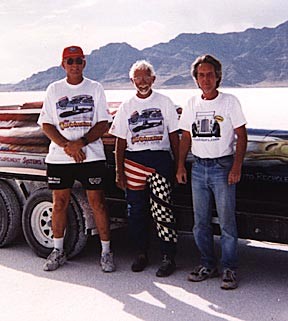 The photo, taken in 1999, shows Rick Vesco, Don Vesco, and myself, standing in front of the Turbinator streamliner at the Bonneville Salt Flats. Don was the fastest motorcycle rider in history, having officially been timed at over 333 miles an hour.

Before we get started: The guy who wrote this Web page realizes that the colors black and orange, as well as approximately one-percent of the English language, are either trademarks of or patented by a certain company in Milwaukee, which is why he just doesn't use them any more.

But then, I'm just a smart-ass anyway. I remember walking into a dealer in Arizona back in 1996 and seeing a Harley-Davidson soda pop machine in the shop. I went up to the Parts guy, nodded towards the machine, and snarled, "Does that thing really sell drinks, or does it just take deposits?"

The first Harley-Davidson motorcycle I owned was back in 1968, a WL that I bought when a 16-year-old could find an original old Harley from the Forties for a few hundred bucks. That bike was followed by a '54 FLH Panhead and a '39 EL Knucklehead.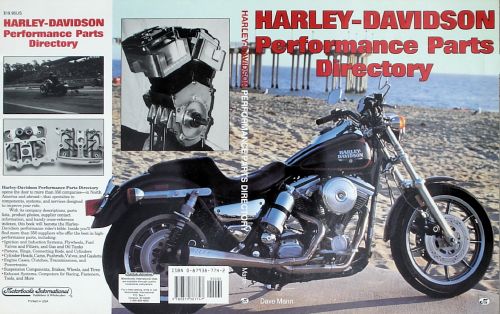 ---
American motorcycle builders
---
---
Body parts manufacturers
---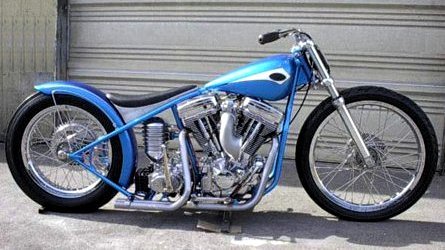 Ace Leather Products
http://www.aceleather.com/
AirTECH — drag bike, KR, RR, XL and XR bodywork
http://www.airtech-streamlining.com/
American Heliarc — fender and gas tank fabrication
http://www.americanheliarc.com/
Auto Meter — instruments
http://www.autometer.com/
Bad Ass Seats
http://www.badassseats.com/
Battistini's Custom Cycles — gas tanks
http://www.battistinis.com/
Bill Mayer Saddles
http://www.billmayer-saddles.com/
Billet Concepts — controls and dash panels
http://www.billetconcepts.com/
Corbin — seats
http://www.corbin.com/
Crime Scene Choppers — taillights
http://www.crimescenechoppers.com/
Custom Chrome — fenders, gas tanks, seats, and oil tanks
http://www.customchrome.com/
Dakota Digital — instruments
http://www.dakotadigital.com/
Deano's Custom Painting
http://www.custompainting.com/
Drag Specialties — lights and windshields
http://www.dragspecialties.com/
Eckcraft Metal Arts — mirrors
http://www.eckcraft.com/
Eurocomponents — lights and mirrors
http://www.eurocomponentsusa.com/
Extreme Motorcycle Seats
http://www.extrememotorcycleseats.com/
Fat Katz — custom fenders and gas tanks
http://www.fatkatz.com/
Danny Gray — seats
http://www.dannygray.com/
Headwinds — headlights
http://www.headwinds.com/
Hi-Tech Products, Inc. — taillights
http://www.hitechledproducts.com/
High Rollers Cycle Seats
http://www.highrollerscycleseats.com/
Joker Machine — billet aluminum parts
http://www.jokermachine.com/
Kemmler Products, Inc. — shock-absorbing padding for seats
http://www.kemmlerproducts.com/
Kosman Specialties — fiberglass drag racing bodywork
http://www.kosman.net/
Landmark Manufacturing — controls and covers
http://www.landmarkmfg.com/
Lazer Star — machined aluminum headlights
http://www.weekendconcepts.com/
Lazy Rider — saddlebags
http://www.lazyrider.com/
Le Pera Enterprises, Inc. — seats
http://www.lepera.com/
Liberty Sidecars — sidecars for Big Twins and Sportsters
http://www.libertysidecars.com/
Lindby Custom, Inc. — engine guards and footpegs
http://www.lindbycustom.com/
Mean Street Products — headlights
http://www.meanstreetproducts.com/
Motor City Cycle — lights and radio kits
http://www.motorcitycycle.com/
Mustang — seats
http://www.mustangseats.com/
Arlen Ness — fenders, gas tanks, seats, and oil tanks
http://www.arlenness.com/
Dave Perewitz — custom fenders and tanks
http://www.perewitz.com/
Jeffrey Phipps Custom Saddles — seats
http://www.jeffreyphipps.com/
Pro-One — lights and billet aluminum mirrors
http://www.pro-one.com/
Radiantz — flexible LED lighting assemblies
http://www.radiantz.com/
RC Components — fenders
http://www.rccomponents.com/
Rifle Fairing Company — fairings, saddlebags, and windshields
http://www.rifle.com/
Storz Performance — gas tanks, seats, and Sportster XR kits
http://www.storzperf.com/
T-Bags — touring bags for forks and sissy bars
http://www.t-bags.com/
TuffPlates — number plates and decals made to order
http://www.tuffplates.com/
Walter's Workshop — saddlebag organizers and extended shift levers
http://www.waltersworkshop.com/
Walz Hardcore Cycles — fenders and tanks
http://www.walz-hardcore-cycles.de/
Paul Yaffe Originals — custom, handformed fenders and gas tanks
http://www.paulyaffeoriginals.com/
Zodiac Motorcycle Products — fenders, seats, and tanks
http://www.zodiac.nl/
---
Chassis parts manufacturers
---



Accutronix — forward controls, risers, and triple clamps
http://www.accutronix.com/

American Sport Bike — Buell parts
http://www.americansportbike.com/

American Suspension — forks and shocks
http://www.asforks.com/

B&T Manufacturing
http://www.btmfg.com/

BAC — Billet Aluminum Construction — bars, risers, and pulleys
http://www.bac.it/

Beringer Brakes
http://www.beringer.fr/

Billet Concepts — pulleys and triple clamps
http://www.billetconcepts.com/

Brembo — disc brake kits
http://www.brembo.com/

Cal Products
http://www.cal-products.com/

Champion Sidecars
http://www.championsidecars.com/

Johnny Chop
http://www.johnnychop.com/

Covington's Cycle City — triple clamps
http://www.covingtonscyclecity.com/

Custom Chrome
http://www.customchrome.com/

DID Chain — final drive chains
http://www.didchain.com/

Deep Cut Rotors — custom-machined brake discs
http://www.deepcutrotors.com/

EBC Brakes
http://www.ebcbrakes.com/

Eurocomponents — forks and triple clamps
http://www.eurocomponentsusa.com/

Exile Cycles — brakes, fabrication, and forks
http://www.exilecycles.com/

Flanders — handlebars, fork seals, and levers
http://www.flanderscompany.com/

Forcella Italia / Ceriani — forks
http://www.storzperf.com/

Fournales Suspension — shocks
http://www.fournales.com/

Fox Racing Shox — shocks
http://www.foxracingshox.com/

Goldammer Cycle Works, Ltd. — forks
http://www.goldammercycle.com/

H-D Cycle — headlights
http://www.h-dcycle.com/

Hawg Halters — brake calipers
http://www.hawghalters.com/

Hill Products — billet aluminum handlebars
http://www.hillproducts.com/

K&N Engineering, Inc. — handlebars
http://www.knfilters.com/

Khrome Werks — handlebars, luggage racks, and sissy bars
http://www.khromewerks.com/

Lazer Star — machined aluminum headlights
http://www.weekendconcepts.com/

Legend Air Suspension — rear suspension kits for FLs and Softails
http://www.legendsuspensions.com/

Mean Street Products — forks
http://www.meanstreetproducts.com/

Martin Bros. Bikes — forward controls, saddles, suspension systems, and triple clamps
http://www.martinbrosbikes.com/

Motorvation Sidecars — modern and nostalgia sidecars, and trailers
http://www.motorvation.com/

Performance Friction — brake pads
http://www.performancefriction.com/

Performance Machine, Inc. — disc brake kits and wheels
http://www.performancemachine.com/

Perse Performance — forks
http://www.perseperformance.com/

Progressive Suspension — shocks and springs
http://www.progressivesuspension.com/

Race Tech — fork bushings, springs, and valving kits
http://www.race-tech.com/

RB Racing — disc brake calipers, pads, and rotors
http://www.rbracing-rsr.com/

RC Components — brakes, drag racing forks, and wide tire conversion kits
http://www.rccomponents.com/

Soft Brake — brake pedals
http://www.softbrake.com/

Sprocket Specialists
http://www.sprocketspecialists.com/

Wild 1, Inc. — handlebars and risers
http://www.wild1inc.com/

Wimmer Machine — springer front ends and instrument brackets
http://www.wimmermachine.com/

WindVest — windshields
http://www.windvest.com/




---
Engine and transmission cases
---



Cal Products — cast aluminum Big Twin left side engine cases
http://www.cal-products.com/

Delkron Manufacturing, Inc. — billet and cast aluminum Big Twin engine cases
http://www.delkron-mfg.com/

Arlen Ness — polished S&S Big Twin cases
http://www.arlenness.com/

S&S Cycle — cast aluminum Big Twin and Sportster engine cases
http://www.sscycle.com/

Sputhe Engineering, Inc. — cast aluminum Big Twin engine and transmission cases
http://www.sputhe.com/

STD Development Company — cast aluminum Big Twin and Sportster engine and transmission cases
http://www.stddevelopment.com/




---
Engine and transmission parts
---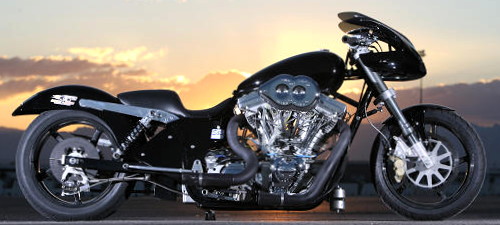 Accel
http://www.mrgasket.com/
Accurate Engineering — complete engines
http://www.accurate-engineering.com/
AER Custom Oil Cooling Systems
http://www.aeroilcool.com/
Aerodyne Corporation
http://www.aerocharger.com/
Aeroquip
http://www.aeroquip.com/
American Custom Products, Inc. — Billet-Cool oil coolers
http://www.billetcool.com/
American Turbo Power
http://www.atp-hd.com/
AMP Research
http://www.amp-research.com/
Andrews Products, Inc.
http://www.andrewsproducts.com/
APE — American Performance Engineering
http://www.aperaceparts.com/
Arao Engineering
http://www.araoengineering.com/
Arias Forged Pistons
http://www.ariaspistons.com/
Arlen Ness
http://www.arlenness.com/
ARP — Automotive Racing Products — fasteners
http://www.arp-bolts.com/
Axtell Sales
http://www.axtellsales.com/
BAE — Brad Anderson Enterprises, Inc.
http://www.bradanderson.com/
Bandit Machine Works — belt drives and clutches
http://www.banditmachineworks.com/
Baker Drivetrain, Inc. — six-speed transmissions
http://www.bakerdrivetrain.com/
Balance Masters
http://www.balancemasters.com/
Bartels' Performance Parts
http://www.bartelsharley.com/
BC Gerolamy
http://www.bcheads.com/
Belt Drives, Ltd.
http://www.beltdrives.com/
Borla Performance Industries
http://www.borla.com/
Branch O'Keefe Co.
http://www.branchokeefe.com/
BUB Enterprise
http://www.bubent.com/
Carl's Speed Shop
http://www.carlsspeedshop.com/
Carlini Design
http://www.carlinidesign.com/
Carrillo Industries
http://www.carrilloind.com/
Cool-Flex
http://www.coolflex.com/
Competition Cams
http://www.compcams.com/
Competition Motorcycles — Carl Pelletier, in Idaho
http://www.compmc.com/
Compu-Fire Engine Electronics, Inc.
http://www.compufire.com/
Crane Cams
http://www.cranecams.com/
Creative Cycles, Inc.
http://www.creativecycles.com/
CruzTools — tool kits
http://www.cruztools.com/
Custom Chrome
http://www.customchrome.com/
The Cylinder Head Shop
http://www.cylinderheadshop.co.uk/
DB Industries — three-valve heads and Top Fuel clutches
http://www.dbindustries.com/
Drag Specialties
http://www.dragspecialties.com/
Dynatek
http://www.dynaonline.com/
Dynojet Research, Inc.
http://www.dynojet.com/
E-Z Flow
http://www.e-z-flow.com/
Edelbrock
http://www.edelbrock.com/
Feuling R&D
http://www.feuling.com/
FLO Head Works
http://www.floheadworks.com/
Force Motor Products
http://www.useforce.com/
G2 Motorsports / Star Racing
http://www.starracing.com/
Gardner-Westcott — fasteners
http://www.gardner-westcott.com/
Hard-Krome — exhaust systems
http://www.hardkrome.com/
Head Quarters
http://www.head-quarters.com/
Hemi Performance Engineering — cylinder heads
http://www.hemiengineering.com/
Hoban Brothers
http://www.hobancycle.com/
Hooker Headers
http://www.holley.com/
Hunt Magnetos
http://www.huntmagnetos.com/
Isky — Ed Iskenderian Racing Cams
http://www.iskycams.com/
Jacobs Electronics
http://www.mrgasket.com/
James Gaskets
http://www.jamesgaskets.com/
Jardine
http://www.jardineproducts.com/
JE Pistons
http://www.jepistons.com/
JIMS USA — engine parts and stroker kits
http://www.jimsusa.com/
K&N Engineering, Inc. — air filters
http://www.knfilters.com/
Karata Enterprises
http://www.karata.com/
Karling Racing — cranks, rods, and complete engines for drag racing
http://www.karlingracing.com/
KB Performance Pistons — Keith Black pistons
http://www.kb-silvolite.com/
Khrome Werks — exhaust systems
http://www.khromewerks.com/
Kiwi Performance Motorcycles
http://www.kiwiprocycle.com/
Larson Machine
http://www.larsonmachine.com/
Leineweber Cams
http://www.leinewebercams.com/
Dave Mackie Engineering
http://www.davemackie.com/
Magnuson Products
http://www.magnacharger.com/
Majestic Turbochargers
http://www.majesticturbo.com/
Martin Bros. Bikes — air cleaners
http://www.martinbrosbikes.com/
Micron — mufflers
http://www.micron-exhaust.com/
Mikuni — carburetors
http://www.mikuni.com/
Morris Magneto
http://www.morrismagneto.com/
MSD Ignition
http://www.msdignition.com/
Murdoch Racing Enterprises — air shifters and drag racing clutches
http://www.murdochracing.com/
Arlen Ness
http://www.arlenness.com/
Nology — ignition parts
http://www.nology.com/
NOS — Nitrous Oxide Systems
http://www.nosnitrous.com/
NRHS
http://www.nrhsperformance.com/
Patrick Racing
http://www.patrickracingbillet.com/
Performance Techniques — Hardy heads
http://www.performancetechniques.com/
Ray Price Performance Products — air shifters and drag racing transmissions
http://www.rayprice.com/
RC Components — turbochargers
http://www.rccomponents.com/
Primo Belt Drives
http://www.primobeltdrives.com/
Quiksilver — carburetors
http://www.edelbrock.com/
Radial
http://www.radial.com/
RB Racing — complete engines, cylinder heads, exhaust systems, fuel injection systems, intercoolers, turbocharger kits, and wastegates
http://www.rbracing-rsr.com/
RCD Engineering
http://www.rcdengineering.com/
RevTech
http://www.customchrome.com/
Rivera Engineering
http://www.riveraengineering.com/
S&S Cycle
http://www.sscycle.com/
Samson Motorcycle Products, Inc.
http://www.samsonusa.com/
Sputhe Engineering, Inc.
http://www.sputhe.com/
Stage 8 — locking fasteners
http://www.stage8.com/
Storz Performance
http://www.storzperf.com/
Sudco International — Keihin and Mikuni carburetors, and Sportster exhaust systems
http://www.sudco.com/
SuperTrapp — mufflers
http://www.supertrapp.com/
Tech Products — starters and tools
http://www.techcycle.com/
Terry Components — electronic fuel injection systems
http://www.terrycomp.com/
Total Seal Piston Rings
http://www.totalseal.com/
TP Engineering
http://www.tpengines.com/
V Thunder — cams and cylinder heads
http://www.vthunder.com/
Vance and Hines
http://www.vanceandhines.com/
Steve Vogel
http://www.stevevogel.com/
WhiTek — fuel injection
http://www.whitek.com/
Wimmer Machine — breathers, covers, and velocity stacks
http://www.wimmermachine.com/
Wiseco
http://www.wiseco.com/
Wood Performance Carburetors — and cams
http://www.woodcarbs.com/
Zipper's Performance Products, Inc.
http://www.zippersperf.com/
Zodiac Motorcycle Products
http://www.zodiac.nl/
---
Custom frame builders
---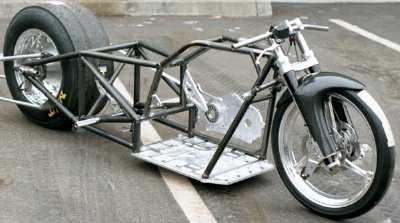 American Heliarc — custom frames and rolling chassis
http://www.americanheliarc.com/

Atlas Precision — custom frames and rolling chassis
http://www.atlasprecision.com/

Bare Knuckle Choppers — custom frames and rolling chassis
http://www.bareknucklechoppers.com/

Big Boar Products — custom frames
http://www.bigboarproducts.com/

Kenny Boyce — custom frames and bike kits
http://www.kennyboyce.com/

Chopper Guys Biker Products, Inc. — custom frames and rolling chassis
http://www.chopperguys.com/

Covington's Cycle City — custom frames and rolling chassis
http://www.covingtonscyclecity.com/

Cycle Style — trike frames made in New Zealand
http://www.cyclestyle.com/

Cyclone Manufacturing — Monotail frames
http://www.monotail.com/

Daytec — custom frames
http://www.daytec.com/

Denver's Choppers — custom frames and rolling chassis
http://www.denverschoppers.com/

Departure Bike Works — custom frames and rolling chassis
http://www.departure.com/

Dixie Frames — drag racing frames and rolling chassis
http://www.billfurr.com/

Rick Doss Incorporated — custom frames and rolling chassis
http://www.rickdossinc.net/

Exile Cycles — custom frames and rolling chassis
http://www.exilecycles.com/

Fast Trac Manufacturing, Inc. — custom frames and rolling chassis
http://www.thefasttrac.com/

Gambler Motorcycle Company, Inc. — custom frames and rolling chassis
http://www.gamblermotorcycles.com/

Goldammer Cycle Works, Ltd. — custom frames and rolling chassis
http://www.goldammercycle.com/

Hot Match Cuctom Cycles — custom frames and rolling chassis
http://www.hotmatchcustomcycles.com/

Pat Kennedys Custom Motorcycles — custom frames and rolling chassis
http://www.kennedyschopper.com/

Kosman Specialties — drag racing frames and rolling chassis
http://www.kosman.net/

Kraft Tech, Inc. — custom frames
http://www.krafttechinc.com/

Mid-USA — custom frames and rolling chassis
http://www.midusa.com/

Motorcycle Chassis, Inc. — custom frames and rolling chassis
http://www.motorcyclechassis.com/

Arlen Ness — custom frames
http://www.arlenness.com/

Paughco — custom frames
http://www.paughco.com/

Race Frame Engineering — reproduction 1937-1965 frames
http://www.raceframe.com.au/

RC Components — custom frames and rolling chassis
http://www.rccomponents.com/

Redneck Engineering — custom frames and rolling chassis
http://www.redneckengineering.com/

Revolution Speed — custom frames and rolling chassis
http://www.revolutionspeed.com/

Rolling Thunder Mfg. — custom frames
http://www.rollingthunderframes.com/

Rowe Machine Company — custom frames
http://www.rowemachine.com/

Saxon Cycle Accessories — Jim Nasi custom frames
http://www.saxoncycle.com/

Spartan Frameworks — custom 4130 frames
http://www.spartanframeworks.com/

Thunder Cycle Designs — custom frames and rolling chassis
http://www.thundercycle.com/

Walz Hardcore Cycles — custom frames and rolling chassis
http://www.walz-hardcore-cycles.de/

Weekend Frame Company — drag racing frames and rolling chassis
http://www.weekendframe.com/

The Wrench Custom Cycles — custom frames and rolling chassis
http://www.thewrenchonline.com/

Paul Yaffe Originals — custom frames and rolling chassis
http://www.paulyaffeoriginals.com/

Zodiac Motorcycle Products — custom frames, drag racing frames, and rolling chassis
http://www.zodiac.nl/

Zoom Cycle — custom frames and rolling chassis
http://www.zoomcyclellc.com/




---
Wheels and tires
---



Akront — aluminum rims for laced wheels
http://www.billetboys.com/

American Wire Wheel — laced wheels
http://www.americanwire.com/

Avenger Wheels — billet aluminum wheels for drag racing and road bikes
http://www.avengerwheels.com/

BAC — Billet Aluminum Construction — billet aluminum wheels
http://www.bac.it/

Baas Metal Craft — laced wheels
http://www.baasmetalcraft.com/

Buchanan Spoke and Rim, Inc. — stainless spokes and custom wheel building
http://www.buchananspokes.com/

Colorado Custom — billet aluminum wheels
http://www.coloradocustom.com/

Dymag Racing Wheels
http://www.dymag.com/

Ego Tripp — custom wheels
http://www.egotrippwheels.com/ and also http://www.texasprecision.com/

Evolution Industries, Inc. — custom laced wheels
http://www.billetusa.com/

Exile Cycles — custom wheels
http://www.exilecycles.com/

Joker Machine — billet aluminum wheels
http://www.jokermachine.com/

Kosman Specialties — billet aluminum and laced wheels for drag racing
http://www.kosman.net/

Landmark Manufacturing — custom laced wheels
http://www.landmarkmfg.com/

Martin Bros. Bikes — billet aluminum wheels
http://www.martinbrosbikes.com/

Motorcycle Chassis, Inc. — billet aluminum wheels
http://www.motorcyclechassis.com/

MRT — Marsh Racing Technologies — carbon fiber wheels for drag bikes
http://www.mrt-wheels.com/

Arlen Ness — custom laced wheels
http://www.arlenness.com/

Pro-One — billet aluminum wheels
http://www.pro-one.com/

RC Components — forged aluminum wheels
http://www.rccomponents.com/

RevTech — laced wheels with steel rims
http://www.customchrome.com/

Rick's Motorcycles — billet aluminum wheels
http://www.ricks-motorcycles.de/

Rowe Machine Performance Products — machined original H-D cast wheels
http://www.roweperformance.com/

Surgical Steeds — billet aluminum wheels
http://www.surgicalsteeds.com/

Thunder Cycle Designs — billet aluminum wheels
http://www.thundercycle.com/

Walz Hardcore Cycles — fenders, tanks, and wheels
http://www.walz-hardcore-cycles.de/

Xtreme Machine — billet aluminum wheels
http://www.xtrememachineusa.com/
---
Avon Tires
http://www.avontires.com/
Bridgestone UK
http://www.bridgestone-tyres.com/
Dunlop Tires
http://www.dunloptires.com/
Metzeler Tires
http://www.metzeler.com/
---
More motorcycle parts manufacturers
---
C.J. Allan's Custom Engraving
http://www.cjs-engraving.com/
Aritronix Security
http://www.aritronix.com/
Armed Guard Electronic Security
http://www.armedguard.com/
Bikeslide — to move your bike around the shop
http://www.bikeslide.com/
Cycle City
http://www.cyclecity.net/
DG Performance Specialties
http://www.dgperf.com/
Essex Motorsports International, Inc.
http://www.essexmoto.com/
Orangeburg Cycles
http://www.billfurr.com/
Pingel Enterprise
http://www.pingelonline.com/
Shu-Band-It
http://www.shubandit.com/
Windzone — tools
http://www.windzone.com/
Yuasa-Exide — batteries
http://www.yuasabatteries.com/
---
Vintage Harley-Davidson parts sources
---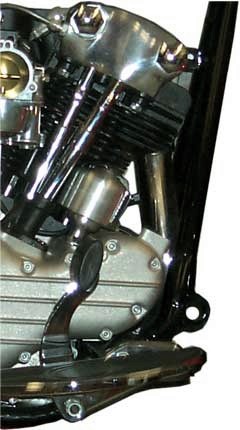 45 Restoration Company — Harley-Davidson WL 45-inch Flathead parts
http://www.45restoration.com/

Bill's Custom Cycles — vintage Harley-Davidson parts
http://www.billscustomcycles.com/

Jan Willem Boon — tools and NOS Harley-Davidson parts
http://www.jwboon.com/

Carl's Cycle Supply — Knucklehead and Panhead engine restoration
http://www.carlscyclesupply.com/

FatDog Vintage Salvage — Harley-Davidson WL 45-inch Flathead parts
http://www.fatdogvintagesalvage.com/

Conan's Classics — parts for vintage Harley-Davidsons
http://www.conansclassics.com/

Flathead Power — Flathead and Knucklehead parts
http://www.flatheadpower.com/

Genuine Cycle — 1936-1969 Harley-Davidson Flathead, Knucklehead, and early Shovelhead parts
http://www.genuinecycle.com/

Harbor Vintage Motor Co. Inc. — reproduction 1930-1936 Harley-Davidson VL Flathead parts
http://www.harborvintage.com/

Heilman Saddles — antique motorcycle saddle restoration
http://www.saddles.amintech.com/

James Gaskets — gaskets for all H-D V-twin street bikes
http://www.jamesgaskets.com/

JIMS USA — tools and engine parts for vintage Harley-Davidsons
http://www.jimsusa.com/

KB Performance Pistons — for Knucklehead, Panhead, and Shovelhead engines
http://www.kb-silvolite.com/

KING Clutch
http://www.kingclutch.com/

Liberty Sidecars — sidecars for vintage Harley-Davidsons
http://www.libertysidecars.com/

Marietta Vintage Cycle, Inc. — reproduction antique motorcycle saddles
http://www.mvcinc.com/

Mas Classics — Harley-Davidson restoration
http://www.masclassics.com/

Old Dude Vintage Parts & Service — reproduction Harley-Davidson parts and restoration
http://www.olddude.com/

Pacific HD Trading Co. — vintage Harley-Davidson parts
http://www.pacifichd.com.au/

Race Frame Engineering — reproduction 1937-1965 frames and frame parts
http://www.raceframe.com.au/

Rusty's Bayside Custom Cycles — vintage Harley-Davidson parts
http://www.http://www.rustyscustom.com.au/

The Shop — vintage Harley-Davidson parts and restoration
http://www.cycleshop.com/

Speedometer Shop — speedometer repair, modification and restoration
http://www.speedometershop.com/

Victory Library — Harley-Davidson Flathead books and parts
http://www.victorylibrary.com/

Walker Machine — reproduction vintage Harley-Davidson parts
http://www.walkermachine.com/

Zoom Cycle — parts for Flathead, Knucklehead, and Panhead engines
http://www.zoomcyclellc.com/




---


All text and images on Roadsters.com
are Copyright 1996-2013 Dave Mann