Adding your link to Roadsters.com
Last updated on September 28, 2013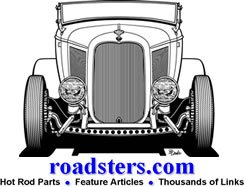 This site was put together to make it simple and quick for people to find information on whatever aspect of motorsports they are interested in. With around 8,000 organized links to other motorsports-related Web sites, Roadsters.com has evolved into a very popular resource, getting three million hits from over 250,000 different computers every month.


Since so few of the thousands of people who asked me to add links to their sites returned the favor by adding links to this one on theirs, in the summer of 2001 it became a requirement that you must add a link from your site to Roadsters.com before expecting me to add a link to yours. The only exception to this is if your site has no links at all to any other Web sites.


The correct name of this site is Roadsters.com. So that first-time visitors can see everything it has to offer, your link must not go to any page other than the first page on the site. The correct URL to use is http://www.roadsters.com/


If your site is made with frames, your link to this site must appear in a new browser window, and not within your site's frame — a selfish and deceptive practice that has been known to cause numerous otherwise-decent Webmasters to spontaneously combust and then burn in Eternal Hell Fire. You can copy and paste the HTML code that will prevent this from happening:

<a href="http://www.roadsters.com/" target="blank">Roadsters.com</a>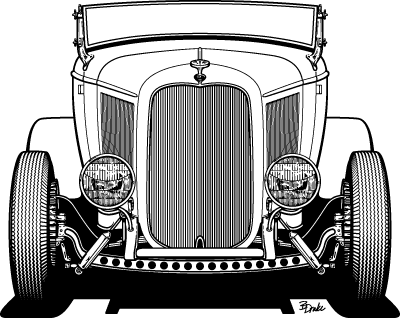 If you want to, you can use the image at the top of this page, or the image shown on the right, or the banner ad image at the bottom of this page, for your link to Roadsters.com. You could also use the version of our logo that has a black background. Using any of these images is completely optional.


I have been selective in choosing the sites I have added links to, by avoiding sites that don't have much original content to offer their visitors. I also don't add links to new car dealers or used car lots, or to sites that are about bowling shirts, surfboards, mini-trucks, or anything front-wheel-drive. This site is what it is because it's pure. Sites that are extremely commercial and obviously put together by people who are not particularly knowledgeable even though they yell that they are would also be of no interest to the majority of the visitors to this site, so they're out too.


I will not add links to business Web sites if the company's street address and phone number are not on the site where I can find them.


I will not add links to companies in China, or to companies whose products are made in China.


Also, unlike many of the more commercial automotive magazines, Roadsters.com has a policy of not promoting companies or individuals that are known to have been fraudulent or otherwise dishonest. As a result of customer complaints over the years, I have removed links to several individuals and businesses, permanently. I am intolerant of crooks and have no intention of ever knowingly doing anything to promote them or their businesses. I will continue to delete links to companies when presented with evidence of their unethical business practices. Clean conscience? No worries.


Roadsters.com only adds links to Web sites that have their own domain names, like "http://www.yourcompany.com/". Since many people change ISPs occasionally, links to sites with long URLs such as "http://www.free-web-pages-with-lame-pop-up-ads.com/~your-name/your-page.html" tend to go out-of-date relatively quickly. I stopped adding links to them back in 1997. The few that remain on the site (mostly belonging to dazed, starving automotive artists, some of whom sleep in dumpsters) are being deleted because experience has shown that it won't be long before they no longer work, and I have better things to do than to keep checking them. Like searching for a dumpster with a three-car garage.


New links are added to this site every day. If you would like me to have a look at your site and consider adding a link to it, just add a link to this site and then send a message with your site's domain name as the title of the message to Dave Mann. Untitled messages, and messages with attachments, are deleted without being read. Thanks for taking the time to read this.



— Dave Mann
---


All text and images on Roadsters.com
are Copyright 1996-2013 Dave Mann