Jaguar sports cars
Last updated on June 23, 2016
---
Introduction
---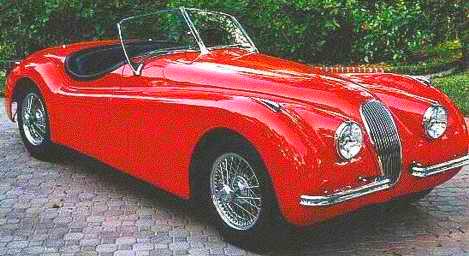 There is one thing we can say about Jaguar that won't be true of many other auto manufacturers: they never built a car that wasn't beautiful.

The Jaguar XK-120, both in roadster and fixed-head coupe versions, started my love affair with these cars. Whether you're looking at a bright red roadster with wire wheels or an off-white coupe with solid wheels and fender skirts, you can't help but be struck with Jaguar's absolutely timeless design. These people got it right.

The XK-140 and XK-150 that followed were hardly disappointments, either. The Mark II saloon was a sweet car, and will always have a loyal and deserved following. But the car that completely got the attention of so many of us — including a lot of people who aren't car enthusiasts in the least — was the E-Type. Rolling sensuality at its finest.

There's a lot of passion involved with these cars, in owning and maintaining them, as well as in their original design.

Fine art you can drive.
---
E-Type Lovers
http://www.xke-lovers.com/
Jaguar Associates Group
http://www.jags.org/
Jaguar Drivers and Restorers Club of Northwest America
http://www.seattlejagclub.org/
XJ Lovers
http://www.jag-lovers.org/xjlovers/
XK Lovers
http://www.jag-lovers.org/xk-lovers/
XKE Lovers
http://www.xke-lovers.com/
---
Jaguar parts sources
---
All European
http://www.alleuro.com/
Austin Healey Wood
http://www.austinhealeywood.com/
Bassett's Jaguar, Inc. — restoration
http://www.bassettsinc.com/
British Autowood — dashboard and wood trim restoration
http://www.britishautowood.com/
British Parts Northwest
http://www.bpnorthwest.com/
Guy Broad — Jaguar XK specialist
http://www.guybroad.co.uk/
Classic Jaguar
http://www.classicjaguar.com/
Coventry West, Inc.
http://www.coventrywest.com/
Griffith's — steering boxes
http://www.griffiths.com/
Jagbits
http://www.jagbits.com/
Jags That Run — Chevy V-8 conversions
http://www.jagsthatrun.com/
John's Cars — Chevy and Ford V-8 conversions
http://www.johnscars.com/
Stew Jones Restoration — Series III XKE specialist
http://www.jaguarv12etype.com/
Lynx Motors International, Ltd. — modified Jaguars
http://www.lynxmotors.co.uk/
Moss Motors
http://www.mossmotors.com/
Moto-Lita — replacement steering wheels
http://www.www.finishlineaccessories.com/
Motorcars, Ltd.
http://www.motorcarsltd.com/
OSJI — Original Specification Jaguar Interiors
http://www.osji.com/
Sport and Classic Car Company
http://www.britishcarpartsco.com/
Terry's Jaguar Parts
http://www.terrysjag.com/
Vintage Jag Works
http://www.vintagejag.com/
Welsh Enterprises, Inc. — replacement parts
http://www.welshent.com/
XK Engineering
http://www.xkengineering.com/
XKs Unlimted — parts, restoration and vintage racing
http://www.xks.com/
---
More Jaguar sites
---
Jag-Lovers
http://www.jag-lovers.org/
Jag Web
http://www.jagweb.com/
Jaguar
http://www.jaguar.com/
Jaguar Heritage Trust
http://www.jdht.com/
---


All text and images on Roadsters.com
are Copyright 1996-2016 Dave Mann