"I was a teenage hot rodder!"



I've been a hot rod nut since I was a munchkin in the late Fifties. Hot rods have always been a big part of life. An obsession, yes, but a rather harmless one, relatively speaking.

Are there any of us guys that never used a clothespin to attach a baseball card to the frame of their bicycle so it would flap in the spokes and sound like it had an engine? I used two of them. I rode a twin.

I have a good recollection of the evening of my sixteenth birthday. It was March 7th, 1968. There was a 1930 Ford Model A sedan that appeared in that day's paper, and naturally since the asking price was the same amount as I had to my name at the time, and since I had the same amount of common sense as I have now, I went to have a look at it with my life savings in my pocket. It was a dark and cold winter night, in Winnipeg, Manitoba. The car was sitting in a snowbank, looking very much unwanted and unloved. Being both a motorhead and a meathead, I vowed right then that I would save her.

When the snow melted in the spring I went to collect my first car, and realized that one should never buy a forty-year-old car when it's buried in snow. Rust, penetrating oil, broken bolts and rotted wood became my new hobbies, and I began to appreciate some of the reproduction stuff. As a matter of fact, after deciding I had just gotten mad at my once-beloved bucket of rusted and fatigued parts for the last time, I sold the car to a restoration type who was really happy with it.

I wasted no time in ordering up a T-bucket body, pickup bed and frame, along with a Minnesota Auto Specialties four-inch-dropped tube axle, and had Jim Babb make me one of his beautiful brass radiators. Instead of fighting with old steel parts that had been together so long they couldn't understand being torn down, now I was making and buying parts. I was getting somewhere.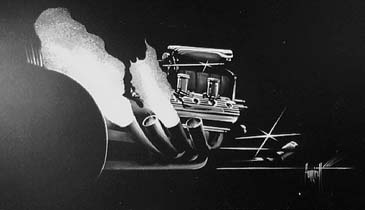 ---


All text and images on Roadsters.com
are Copyright 1996-2013 Dave Mann